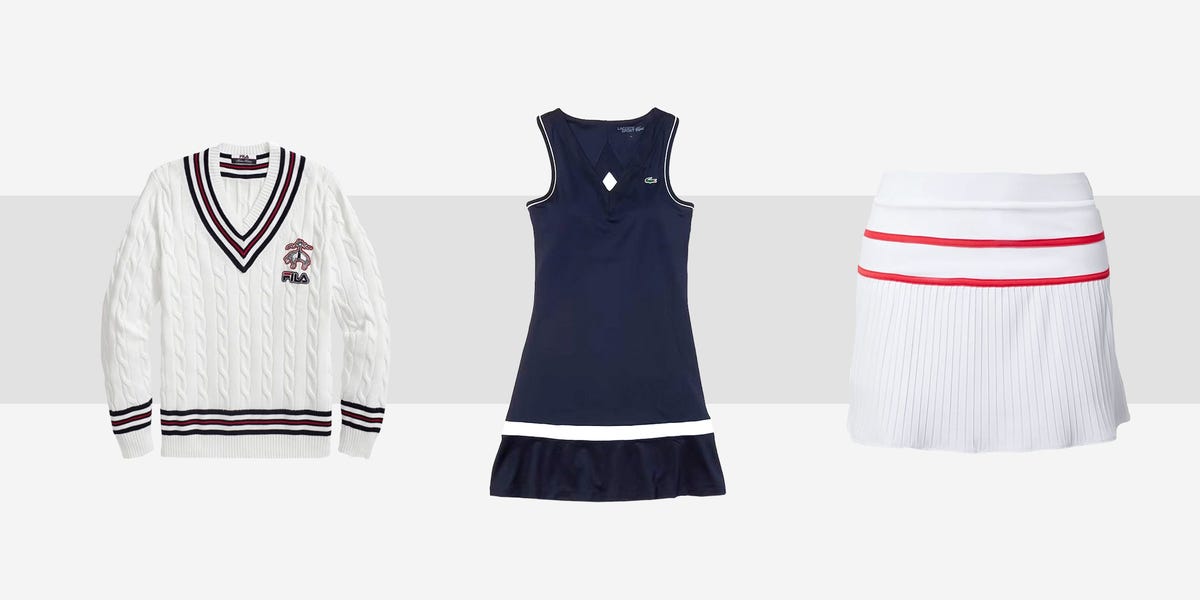 21 Best Tennis Outfits to Wear 2021
Tennis, a perennially preppy and fun sport is having a huge moment right now. You can hardly scroll through Instagram or TikTok without seeing someone playing a quick game, set, match, and further, wearing some ultra-sleek threads while doing so. Because with the explosion in the activity's popularity, so too has the level of fashionable apparel to wear while playing—and without a loss of function. Case in point: you've probably noticed Gen-Z and beyond is wearing the tennis skirt on and off the court. But beyond the skirts there are skorts, crops, dresses, hoodies and sweatshirts and shorts galore. Here, our pick of the most stylish tennis outfits to don whether you have taken up a new hobby, are a pro, or if you just want to look the part.
MORE: Gifts for Tennis Lovers
US Open Ballperson Polo Shirt
Ralph Lauren
ralphlauren.com
$125.00
If you can't be on the court at the US Open, at least you can dress like it! This ballperson shirt from Polo Ralph Lauren, the official outfitter of the US Open, is made from recycled tennis ball cans. 
Printed Tennis Skirt With Built In Shortie
Carbon 38 x Eleven by Venus Williams
carbon38.com
$88.00
If you want to combine two trends in one (tie dye and tennis) a fun option is this collaboration between Carbon 38 and Venus Williams. And it's not all fashion, this skirt (which comes with built in shorts) is well-fitting and moves seamlessly—great when you're sprinting to the net, and when you're put a picture of your 'fit on Instagram.
Williams Cropped Crew
Recreational Habits
$120.00
When temperatures start to drop, add a flattering cropped crewneck sweatshirt to your look for an extra touch of prep.
Performance V-Neck Tennis Dress
Tory Burch
toryburch.com
$228.00
Want to stun on the courts? This tennis dress with its classic v-neck and drop waist is equal parts fashion-forward and functional. Plus, you'll feel like you belong in a Slim Aarons photo when you wear it. 
Stretch-Jersey Tank
Full Court Sport
net-a-porter.com
$95.00
With a non-restrictive shelf bra and seamless racerback, you will find a seamless pairing with this tank and whatever tennis skort you choose. 
Tennis Jacket
Jacques NYC
jacquesnyc.com
$420.00
A sleek and minimal tennis jacket that you can wear on your way to play and on your way to drinks? Yes please. 
Tennis-Print Cotton T-Shirt
Casablanca
farfetch.com
$175.00
Take things a little meta with an adorable printed T-shirt that will work with any of your sporty separates. 
The Maggie Dress
Club and Court
clubandcourt.com
$158.00
A preppy number that will work on the golf course and on the tennis court? Sign us up. 
Spacedye Move It Skirt
Beyond Yoga
beyondyoga.com
$75.00
Infuse a bit of color into your tennis wardrobe with this sleek skirt. Bonus: you can wear this piece whether you are power walking or playing with a racquet. 
SPORTCLEAN Iga Top in Coconut
Marysia
marysia.com
$162.00
Splash Printed Stretch Tennis Skirt
Year of Ours
net-a-porter.com
$132.00
Get a little funky with this stretchy '70s print skirt. 
Sport Built-In Bra Stretch Tennis Dress
Lacoste
lacoste.com
$145.00
When in doubt: reach for Lacoste. Afterall, the brand is founded on tennis. And in a sleek navy colorway, you'll stun well into fall.
Lawn Tennis Sweater
Brooks Brothers x FILA
brooksbrothers.com
$99.00
Bring some tennis savoir-faire into your day-to-day with a cable knit sweater. 
Tennis Crop Top Naomi Osaka
Nike Naomi Osaka
nike.com
$65.00
For a little edge, perhaps opt for a orange and black crop from Naomi Osaka's collection with Nike.
Katlyn Athletic Skort
Southern Tide
southerntide.com
$88.00
Looking a for a bit of whimsy? Southern Tide's skort with a striped panel is just the ticket. 
The Oversized Love Hoodie
Give your warmup look an addition that is on theme with a "love" hoodie. Because every match starts with love… obviously. 
Pleated Stretch-Jersey Tennis Skirt
L'Etoile
net-a-porter.com
$125.00
With its pleating and piping, you'll turn heads wearing this skirt and not just because of your killer serve.
Essential Court Dress
Ascot Manor
ascotmanor.com
$65.00
Go for a little fun in a fluttery color-blocked dress.
Cutout-Back Stretch-Jersey Tennis Dress
Reebok x Victoria Beckham
matchesfashion.com
$190.00
Simple and wearable no matter the sport, you'll love this LBD version of tennis apparel by, who else, Victoria Beckham.
TCP T-Shirt
Sergio Tacchini
sergiotacchini.com
$46.00
Eco-friendly, form-fitting, and quick drying make for a magic trio in this tennis T. 
Tennis Dress With Zig-Zag Trim
Rowing Blazers
rowingblazers.com
$168.00
Another update on a preppy classic comes by way of Rowing Blazers with a dress embellished with a zig-zag trim. And the best part? You can totally wear this with a pair of loafers to brunch.
This content is created and maintained by a third party, and imported onto this page to help users provide their email addresses. You may be able to find more information about this and similar content at piano.io