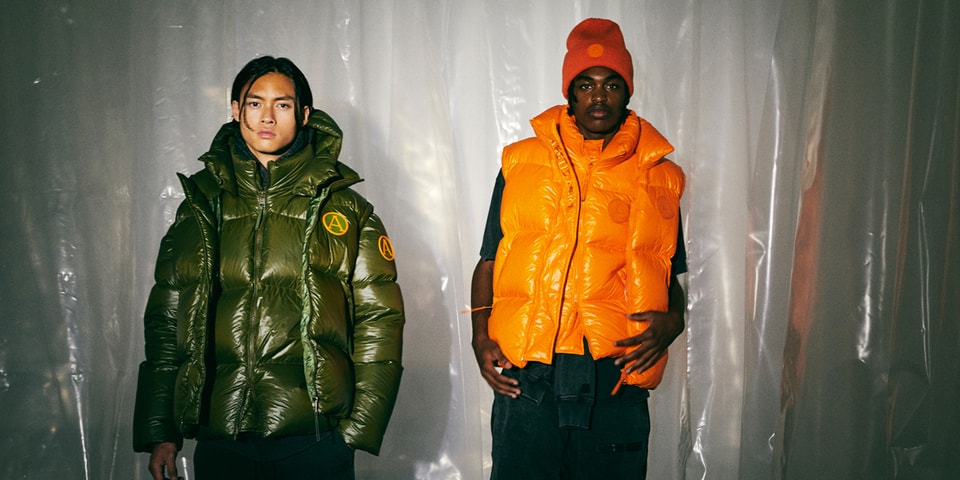 Arctic Army Launches Statement FW21 Outerwear Range
Since its inception in 2017, Arctic Army has defined what luxe streetwear means in the modern fashion landscape. The outerwear brand built its distinctly urban aesthetic on creative directors Paul Waite and Ed Jefferson's nostalgic love for the 90s, and later became an instrumental player in the era's revival in fashion and music. Now, the maximalist and sometimes garish styles of the 90s and Y2K are playing a key role in Arctic Army's ongoing collections and growth as a brand.
In its Fall/Winter 2021 collection, the brand has brought its focus to crafting cult 90s outerwear pieces in its most daring approach yet. From soft pink puffers to fur-lined bombers, Arctic Army is ticking all the boxes when it comes to statement jackets with quality techniques and materials to make the Y2K look last a lifetime. HYPEBEAST caught up with the Ed Jefferson to chat 90s aesthetics in high-fashion, hip-hop heroes and what it means to be part of the Arctic Army tribe.
HYPEBEAST: What makes the 90s/early 00s a constant source of inspiration at Arctic Army
?
Jefferson: Both myself and Paul Waite (the brand's co-founder and co-creative director) are inspired by the culture, fashion and nostalgia of MTV Cribs and the R&B music video generation. This was my first exposure to this over-the-top, fabulous world. I grew up in that era that championed Timberland Boots and big puffers, big logos and monograms and have always been inspired by the culture. I remember seeing the Marc Jacobs x Stephen Sprouse LV Graffiti collaboration for the first time and loving the idea that luxury could be paired with a colourful streetwear influence. You can see this in the DNA of Arctic Army: we are unapologetic and bold in everything we do. 
 
Tell us a bit about how your collection embodies the Y2K trend
.
Y2K is essentially a blend of pop culture and tech advancements from the millennium. Our bold badges echo the logo-branded monogram mania of the Y2K era and we have created a digital chinchilla print puffer, inspired by P-Diddy's chinchilla fur coats. Creating digital animal prints is a signature style for the brand inspired by this era. The idea of men in pastel tones was in our minds when creating our pastel clay tracksuits – think Cam'ron circa Fashion Week 2002 in his iconic pink mink coat and flip phone.  The baby blue was inspired by the Sean Paul & Blue Cantrell's "Breathe" video and that pastel Mercedes every kid dreamed of owning.
 
Why do you think these trends are everlasting and have a place in today's fashions?

I think the logo and heavy branding trend will always have a place in fashion. There's a sense of tribal aspiration and sharing an affinity with a brand that you admire aesthetically and resonate with culturally. For us, the soldier beetle arm badge is instantly recognisable as Arctic Army. Over the years fashion has become much more luxury-casual, you only have to look at pop culture icons like Kim K wearing a T-shirt dress to the MET to see the way we're heading. Luxury tracksuits are the new suit and tie.  
There's a sense of tribal aspiration and sharing an affinity with a brand that you admire aesthetically and resonate with culturally.
 
Explain how the collection reflects a "forever mood".

Our pieces are forever essentials. They are wardrobe staples that don't go in and out of style. Despite being bold, they are also quite clean and modern in design. Buying an Arctic Army piece is an investment, the quality of our garments is made to last. 
Tell us about the importance of the puffer jackets in your collection & your brand
.
Our puffer was introduced for the first-time last winter and quickly became our biggest selling style, in fact the black colorway sold out almost immediately online. It didn't take long either before it started appearing in countless music videos and on rap artists in the UK including Bugzy Malone, Krept & Konan, Mist, and Not3s as well the USA on artists like Saweetie. We kept it simple, bold and supersized with our puffer.
 
What technical elements can wearers expect within the outerwear line?

Details like super soft fleece-lined pockets for that soft touch feel and high volume RDS certified down fill keeps you insulated and can with-stand freezing arctic winds. The shells are water resistant satin nylon and we also have hidden storm cuffs; a tight-fitting inner cuff which prevents rain or wind from getting inside. During development we made sure inside pockets are big enough for the largest of iPhones, as this is a must have for myself when I buy items and I think it's important for this technology-dependent generation too. We are always developing and evolving each season, applying new techniques and pushing the boundaries to create the most exciting technical fashion. 
We wanted our customers to be able to wear Arctic Army every day, not just when it was cold.
Why did you decide to introduce a jersey collection to the range?

Luxury casual wear was a natural category for us to develop. It was also a part of our plan to make Arctic Army a brand that can be worn all year round. We wanted our customers to be able to wear Arctic Army every day, not just when it was cold. We combine techniques like raised silicon prints, high build embroidery and silicon badges on heavy washed jersey fabrics. The process is quite a complex mix of techniques to do on one garment and has taken a lot of development and trials, taking over two years to fully realise the collection. We have some really exciting new categories coming in the future, this is just the beginning for us.
 
In your collection you reference musicians of the 90s RnB era, how have your muses changed over time? 

As we move forward into this new era of streetwear, I'm really enjoying Kim K's current Balenciaga phase, I think it's pretty iconic. The huge puffers over skin tight catsuits, the use of technology such as LED lights inside sunglasses, these are perfect examples of how even high fashion luxury is evolving to be more and more casual and futuristic. It speaks volumes into the direction we are heading. Kanye West's futuristic vision of fashion has also been a big inspiration. When creating luxury jersey, he is a forever muse of ours! 
Explore Arctic Army's Fall/Winter collection in the galleries above. Shop the range on the brand's webstore and select retailers.