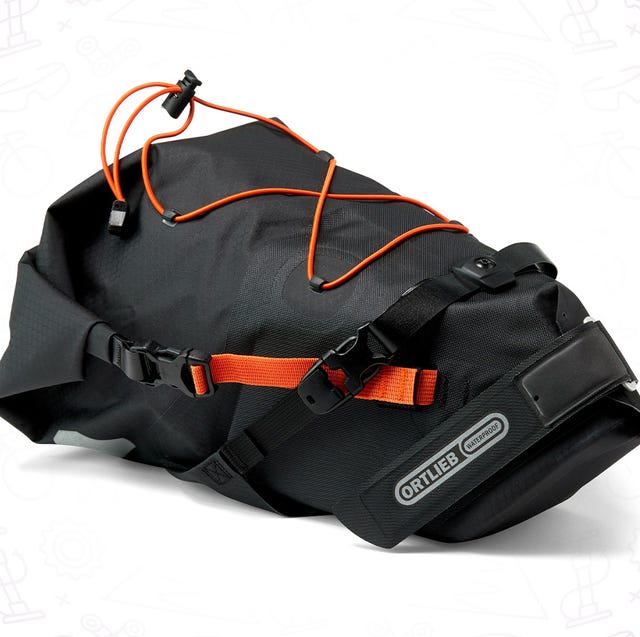 Staff, Courtesy of Ortlieb
With sky-high gas prices and some Covid-related travel restrictions still lingering, more people are gravitating toward bikepacking and touring as a sustainable, self-sufficient, low-cost way to find adventure. And as more brands get on board to fuel the trend, using your bicycle as a means to get away is becoming more accessible to everyone. Whether you're credit-card touring (eating in restaurants, staying in motels), overnight camping, or even just heading out for the day, you'll need the right bag or bags to carry your gear. But with so many types of bikepacking bags to choose from, it can be challenging knowing which one is right for the job. Here, I recommend bikepacking bags for every scenario.
The Best Bikepacking Bags
The Expert: As a professional gear tester for more than 20 years, I've had the opportunity to see some amazing places. I've written for and contributed to various publications, including Backpacker, Men's Health, Gear Junkie, 5280, and Elevation Outdoors. I've been bikepacking for over a decade and still aspire to traverse some of the country's signature treks. My specialty is one-night missions from my home base in the National Forests surrounding Nederland, Colorado, and other multi-day bikepacking trips around Colorado. I delight in providing the context and experience that will help you make great gear choices—and have more fun outdoors. Find me on Instagram @definitelywild.
What to Consider When Buying a Bikepacking Bag
Types of Bags
The idea of a bikepacking bag is that it attaches to your bike—whether by fixed attachment points or straps with buckles or Velcro—thus eliminating the need to wear a heavy backpack, which can weigh on your back and shoulders and cause discomfort and fatigue over time.
Bikepacking bags are designed to attach to just about every part of your bicycle—from your handlebar to your frame to your seat—and each serves a unique purpose, whether it's to keep small necessities within reach or larger gear out of the way.
Handlebar packs sit front and center for easy access and security so you're able to keep an eye on your valuables. Top tube packs fit the same bill but are generally smaller and more accessible mid-ride. Fork packs mount onto either side of your bike's fork legs within your line of sight but far enough out of the way to clear your pedals. Frame packs offer the sleekest option, tucked into the negative space between your top and down tubes. In this category, you'll find half-frame bags, which leave room for water bottle cages and work with just about any frame, and full-frame bags, which can be challenging to use on some bikes, as their triangular shape can be limiting in some frame configurations.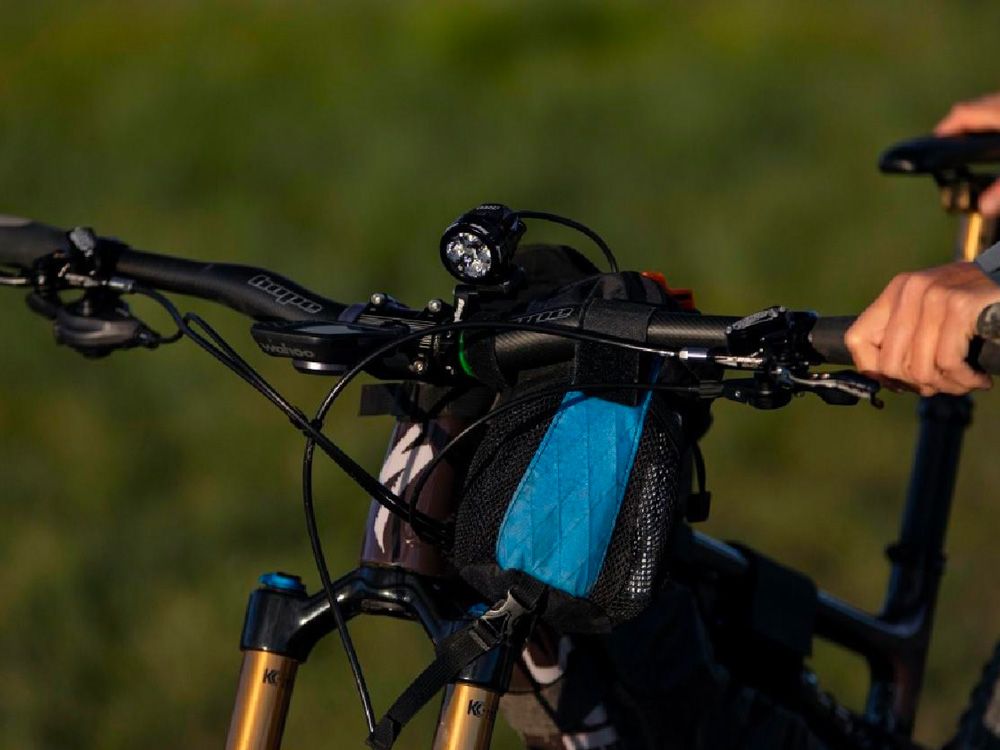 Seat packs hold the workhorse title since they're able to carry the biggest loads without interrupting your range of motion, but these demand some extra attention to minimize tail "waggage."
Short and sweet trips may come down to only one or two storage packs, in which case you're free to pick your preferred placements from the lineup of options. But extended backpacking adventures call for a solid packing strategy, combining multiple bags in a variety of placements to make room for it all and spread out the load.
Consider This Gear: Best Bike Lights • Best Bike Locks • Best Bike Repair Stands
Materials
Gone are the days of canvas panniers and unsightly plastic buckets that were common back in the day (yes, people literally bolted empty kitty litter buckets to their bike rack and fork!). Sturdy, weather- and waterproof fabrics are key for protecting your goods, especially those in close proximity to gears and pedals—which can kick up water and grit from the road—while remaining lightweight. Nylon and polyester are common construction materials, with additions like polyurethane coatings for increased water resistance and ripstop weaves for added durability.
Capacity
Once you've determined which type of bag or bags will best suit your needs, you often, depending on the manufacturer, can then choose the size of the bag. Some, like the Topeak Backloader Seat Bag and Revelate Designs Ripio Bike Frame Bag, are available in a range of sizes, from small to extra large (indicated by capacity in liters).
How We Selected These Bikepacking Bags
Based on my experience as a cyclist who has done both single- and multiday bike trips, I chose the best bikepacking bags for every type of cycling adventure, from fast and light day trips to overnight treks. When evaluating these bikepacking bags, I considered the value of each bag on its own as well as when paired with another bag to create a larger storage and travel system. My recommendations prioritize organization, accessibility, durability, sleek design, and ease of use. To make your shopping experience even more fulfilling, I chose bags from reputable brands in the bikepacking space and that are in stock and can be purchased now.
Best for Easy Access
Revelate Designs Mountain Feedbag Handlebar Bag
Easy open/close
Convenient access
Insulated for fuel and hydration
Relatively small size and height
Key Specs
Placement: Handlebar
Material: Polyurethane-coated ripstop polyester
Attachment: Adjustable Velcro
Capacity: 1L
This small bag fits snugly into the corner of your handlebar stem for easy pull-tab access with just one hand so you can stay focused on the ride. True to its name, the Feedbag is the perfect place for snacks as it's lined with insulating foam to keep your treats cozy or cool no matter the temperature outside. Balance it out with a second Feedbag on the other side of the stem for double the space and more fuel for longer rides.
Best on a Budget
Topeak Backloader Seat Bag
Good value for price
Bungee ties for extra outer storage
Air-release valve for maximum compression
Requires inner stuff sack for full waterproofing
Key Specs
Placement: Seat
Material: Polyethylene and nylon
Attachment: Hook-and-loop nylon strap
Capacity: 6L (S), 10L (M), 15L (L)
The Backloader Seat Bag from Topeak offers huge bang for your buck with 6, 10, or 15 liters of space under your seat for about $100. Because all three sizes compress and expand to match the size of their contents, one bag could serve storage needs on both shorter and longer rides.
Even the smallest size has room for bulkier items, thanks to compression straps on either side and an air-release valve to condense it all down. While the outside of the main bag isn't fully waterproof, it comes with an inner drybag to add an extra layer of protection when conditions turn sour, something that Topeak has always done well.
Best for Essentials
Revelate Designs Tangle Frame Bag
Versatile for different frame sizes
Secure zippers
Easy access
Attachment straps can scratch against bike frame

Key Specs
Placement: Frame
Material: Nylon and closed-cell foam
Attachment: Webbing and cam-lock buckles
Capacity: 4L
Half-frame bags make good use of that negative space between the top and down tubes of your bike without the biggest issue of full-frame bags: fitting the specific dimensions of different types and sizes of bikes.
Opting for a half-frame sacrifices some room, but offers more versatility across frame sizes and keeps everything close at hand right underneath your top tube. That's why the Tangle Frame Bag is perfect for storing small but essential items like your keys, wallet, multitool, utensils, towel, and more that you need to keep protected but access quickly and easily. Multiple pockets with organizational dividers and flaps, plus a hydration tube port and bike pump straps turn this pack into a Mary Poppins bag with seemingly endless space despite its small size.
Best for Long Trips
Ortlieb Fork Pack
Easy attachment
Reliable waterproofing
Lightweight
Requires mounting system
Not appropriate for carbon forks
Key Specs
Placement: Fork
Material: Polyurethane-coated nylon
Attachment: Quick-Lock onto included adapter plate
Capacity: 4.1L
The Ortlieb Fork Pack makes good use of otherwise dead space on either side of your wheels, front and back. The Quick-Lock mounting system makes on-and-off transitions effortless, while still keeping a reliable grip on the bags during a bumpy ride.
Despite the close proximity to dangerously muddy territory on your wheels near the ground, supreme water resistance and superior fabrics ensure your gear stays safe from the elements. The whole setup, mount included, adds up to only 10.2 ounces, to keep from throwing off your center of gravity too much. The Fork-Packs are best for the bikepacker who has everything, and still needs more capacity, as well as for smaller frames. It's the only product like it in its segment.
Best for Versatility
Revelate Designs Shrew Seat Bag
Adjustable size
Universal bike fit
Lightweight and compact
Key Specs
Placement: Seat
Material: Dimension Polyant VX-21 nylon and polyester with abrasion-resistant finish
Attachment: Indie-Rail clasp attachment
Capacity: 2.25L
Small but mighty, the Shrew Seat Bag is built to handle any adventure on any bike. It doesn't require any hardware or additional attachment points beyond saddle rails, so the Shrew doesn't discriminate no matter your seatpost design. It's compact enough to fit under your seat without extending too far back behind it, and compresses or expands to match the exact size of what you put in it for maximum space efficiency.
Best for Organization
Revelate Designs Ripio Bike Frame Bag
Four sizes to fit range of frames
Multiple pockets and dividers for organization
Durable zippers and straps
Not as waterproof as other options
Too large for mountain bikes
Key Specs
Placement: Frame
Material: 1050-denier ballistics nylon, 420-denier diamond ripstop lining, closed-cell foam, and stretch Cordura
Attachment: Hook-and-loop webbing clasps
Capacity: 5L (S), 6.3L (M), 7.7L (L), 9L (XL)
This full-size frame bag for road and gravel bikes features three different zippered pockets each with multiple dividers and straps to please even the most particular rider when it comes to organizing.
The various compartments will save you precious time and energy by eliminating all the pointless digging around for the one thing you need that always seems to sink to the very bottom of your bag. There's a designated place for everything you can think of, from bike pumps and hydration tubes to keys, tech, and layers. The full frame design takes advantage of every inch between top and down tubes to maximize storage space.
Best for Spaciousness
Ortlieb Seat-Pack Saddle Bag
High storage capacity
Adjustable size
Air-release valve for better compression
Not enough internal structure to support heavy items
Large size not appropriate for dropper seatposts
Key Specs
Placement: Seat
Material: Polyurethane-coated nylon
Attachment: Hook-and-loop webbing and velcro
Capacity: 11L (S), 16.5L (L)
This seat pack is perfect for storing light but bulky items like clothes and sleeping bags. The Saddle Bag extends far enough beyond your seat to double up as a fender in dirty trail or gravel conditions (with reliable waterproof polyurethane coating to keep your gear dry). Compression straps and roll closures pack down airy gear as tightly as possible to take up just as much space as you need—no more, no less.
Best for Durability
Apidura Backcountry Handlebar Pack
Very durable and waterproof
Balanced weight distribution
Bungee ties for extra outer storage
Not very accessible on the move
Key Specs
Placement: Handlebar
Material: Dimension-Polyant VX21 nylon and polyester
Attachment: Hypalon nylon webbing and clasps
Capacity: 7L (S), 11L (L)
This pack has "backcountry" in the title for a reason: It's built to handle the roughest rides you can imagine. Its sleek horizontal design reduces outward bulk on your handlebar for better aerodynamics and weight distribution. Roll closures on both ends pack down its contents to save space and eliminate bounce. Four-layer waterproof and abrasion-resistant nylon keep moisture and dirt at bay, whether you're riding through a downpour or navigating rugged rockfall. You can trust the Backcountry Handlebar bag to take it all in stride without compromising its contents, so go ahead and pack it up with your valuables.
Best for Mountain Bikes
Ortlieb RC Top Tube Frame Pack
Doesn't interfere with full-suspension shocks
Roll-top or zippered options
Can handle heavy loads
Both versions hard to open on the move, especially the roll-top
Key Specs
Placement: Top Tube
Material: Polyurethane-coated nylon
Attachment: Hook-and-loop nylon straps
Capacity: 4L
The shocks on full-suspension mountain bikes take up more space within the frame, so regular frame packs don't usually fit well. Industry leader Ortlieb offers a similar option that bridges the gap between traditional frame and top tube bags.
The Top Tube Frame pack secures to the top tube instead to free up room in the frame triangle for shocks or bottle mounts. It also comes in two versions: roll-top for better waterproofing and zippered for easier access (but still reliably waterproof). The durable exterior protects this pack from trail damage, even down close to your wheels. Ortlieb's fork-mount saddlebags and seat bag, which are German-engineered, will not disappoint.
Best for Tech
Blackburn Local Plus Top Tube Bag
Sturdy and protective
Touchscreen-enabled
Easy access
A little unwieldy when riding out of the saddle
Key Specs
Placement: Top Tube
Material: Nylon
Attachment: Hook-and-loop nylon straps
Capacity: 1L
Long trips call for solid navigation, and that usually means relying on a digital map and device to guide your way in unfamiliar territory. The Local Plus Top Tube Bag keeps your phone or Garmin in sight for easy mapping, communication, music, or any other reason you'd need to stay connected. Your device stays protected under a clear and touchscreen-enabled zippered cover, with a main compartment underneath for other valuables that you want to keep dry and within arm's reach.
Ready to Go? Expert Aaron Bible Shares Pointers on How to Pack for Your Next Bike Trek
BI: What's the best bike for bikepacking?
A.B.: Any bike you're willing to pedal uphill fully laden. People use everything from road bikes to mountain bikes, but the most popular bikepacking bikes fall somewhere in between, such as a gravel bike with endurance geometry and 650B wheels.
BI: When do I need rack mounts?
A.B.: Rack mounts are pretty common now on gravel bikes and bikes geared specifically toward bikepacking or adventure cycling. You don't necessarily "need" them to accomplish any bag fitting goal on a bike, but if you do have them, it can make outfitting easier and allow you to use certain bags that are made to work with rack mounts.
BI: What combination of bags do you prefer and why?
A.B.: My preference is a small handlebar bag, a small hydration pack, a larger seat bag, and a low frame bag…this just seems to be a good combination/balance for bike handling and capacity.
BI: Any tips for how to pack a bag?
A.B.: Yes! But this could be a whole article! You want your weight down low toward your center of gravity; lighter, quick access items on the handlebar. Don't carry any more food, water, or gear than you need before your next stop, and don't wear a heavy backpack. Ultralight backpacking gear packed in ultralight stuff sacks is the way to go!
This content is created and maintained by a third party, and imported onto this page to help users provide their email addresses. You may be able to find more information about this and similar content at piano.io