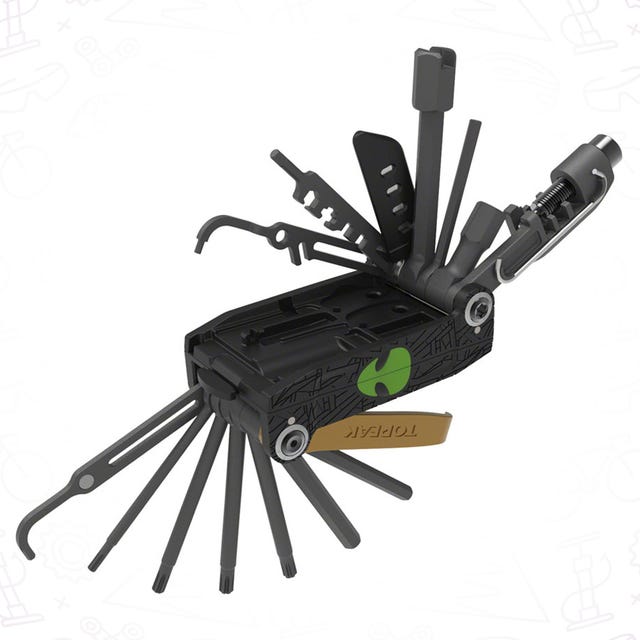 Staff, Courtesy of Topeak
While you can hit up your local repair shop to have your bike or gear fixed or have a professional help you with small repairs around your home, doing so is often a costly proposition. Thankfully, you don't have to spend an arm and a leg to get your ride in road-ready shape once again if you've got the right equipment. With a great multitool on hand, you can easily tighten, loosen, and fix almost anything during a ride, and most of these tools are small enough to toss in a saddlebag, pack, or pocket. Most weigh well under a pound and can help with anything from fixing a broken chain or a flat to straightening a rotor to spacing brake pads to tightening loose bolts to making small household repairs.
Best Multitools
What to Consider

When you're thinking of getting a multitool, first consider how you're going to use it. Do you want a multitool that can handle practically any repair on your bike, as well as a few in your home? Will you use it to fix flats and broken chains, or do you just need it to be able to tighten a few loose parts?
The type of multitool you want may also vary if you ride tubeless or use inner tubes. At the very least, we recommend a multitool with a combination of hex heads (ideally 3- through 6-mm, and hopefully 8-mm as well), T10 and T25 Torx heads, as well as flathead and Phillips-head screwdrivers.
If you want to ensure that your multitool is as functional as possible, consider one with extra features like tire levers, CO2 cartridge adapters, chain tools (and links), plugs for tubeless tires, spoke and box wrenches, and more than one type of screwdriver. Some even include spanners for disc brake pads and tools to help straighten said disc brakes.
Also consider how you want to carry your tools. Do you want to wrap them around the bike's frame, or carry them in a saddlebag, pocket, or toolbox?
If you want a multitool with just basic functionality, there are some great options that are barely bigger than a common lighter. If you want a deluxe multitool that can be used for repairs on your bike, in your home, and on other gear, there are sensible models that are still smaller than a deck of cards that can do just about everything you need without a bunch of stuff you probably won't use.
A lot of multitools have fold-out features, like a Swiss Army knife. Some have ratchets, T-bars, or L-bars for extra torque. Some fit into various parts of the bike itself, like the handlebars or steering tubes. If you choose a folding-style multitool, make sure it's easy enough to open up but not so loose that all the tools flop out at once when you're using it. Also, the width of the tool or length of its tool heads can also be a limiting factor when working in some tight spaces on a bike.
How We Evaluated
We evaluated these multitools based on personal use and professional and customer reviews. Many of these tools have been around for years, but some are more recent entrants to the market or newer iterations of established designs. We also wanted to offer a variety of multitool styles to meet the demands of riders' different needs, both on and off the road.
1
Most Compact
ALiEN X Multi-Tool
Key Specs
Weight: 7.2 ounces
Included Wrenches: 1.5-L, 2-L, 2.5-, 3-, 4-, 5-, 6-, and 8-mm Allen wrenches; 10 hex socket; T10, T15, T20, T25, and T30 Torx sockets; multiple spoke wrenches
Additional Tools: Chain breaker; hook; power link pliers and master link storage; anodized tire lever; Philips and flathead screw bits; serrated knife; valve core tools; polymer disc spacer
If you're looking for a compact multitool that can fix practically any issue on your bike or other gear, look no further than Topeak's ALiEN X multitool. Made of two fold-out tools that snap together, it comes apart to re-form as a master link chain plier. However, that's just one of its more than 34 features, which means you can take care of just about any issue on your bike and your buddies' bikes during a ride, too. It's a top-of-the-line tool that could easily be overkill for someone who just needs a basic model to go alongside the rest of their tool kit, but its multifunctional nature means it's well worth the price.
It has enough tools to fix any bike issue
Sleek design
Good carrying case
Individual tools are marked for their size
Multifunctional enough to work for non-bike repairs
Expensive
Heavier and bulkier than some other multitools
Some small parts could be easily lost
Doesn't come with tire plugs for tubeless bikes
2
Best Belt-Attached
Ultimate Bike Multitool
Key Specs
Weight: 5 ounces
Included Wrenches: 2-, 2.5-, 3-, 4-, 5-, 6-, and 8-mm hex wrenches; T25 Torx wrench; 8- and 10-mm open-ended wrenches; spoke wrenches
Additional Tools: Tire lever; Dynaplug plugs for tubeless tires; Phillips and flathead screwdrivers; rotor straightener; Presta valve core remover; chain breaker for 10-speed and greater; quick links and storage spot; bottle opener
This sleek little multitool packs a punch and easily attaches to your belt. Aimed more at mountain bikers and gravel riders than road riders, it includes a Dynaplug kit for on-the-fly tubeless tire repairs. This kit is a relatively light 5 ounces, but it can still fix practically anything that might ail your mountain bike. Plus, it comes with tools that work well for situations away from the road, as well, including Philips and flathead screwdrivers and even a bottle opener!
Doesn't come with the belt
Expensive
3
Best Customizable
Mountain Bike Tool Kit
Key Specs
Weight: 4.9 ounces
Included Wrenches: 2-, 2.5-, 3-, 4-, 5-, and 6-mm Allen wrench bits; T25 Torx bit
Additional Tools: Phillips #2 bit screwdriver
Fix It Sticks offers a somewhat unique take on the multitool. The two sticks fit together to form a T-grip that provides extra leverage. The tool comes with eight bits, but you can add additional tools and bits as needed. For instance, the company also offers a more expensive mountain bike version that includes tire levers and a chain tool. With this tool, you can choose all the bits and heads that you need, since it accepts standard 1/4-inch bit heads.
Less expensive than other options
Compact
Torque drivers can be added
T-Grip offers great leverage
Highly customizable
Bits are easily lost
Sticks may jiggle out of water bottle bracket over time
4
Best Tool Assortment
M20 Tool
Key Specs
Weight: 7.2 ounces
Included Wrenches: 2-, 2.5-, 3-, 4-, 5-, 6-, and 8-mm hex wrenches; T-10 and T-25 Torx wrenches; 8-mm open wrench; spoke wrenches
Additional Tools: Chain tool; Phillips #1 and #2 screwdrivers; flathead screwdriver; valve core tool; tire plug tool, tire plugs; rotor straightener
The M20 is an updated version of Crankbrothers' popular M-series line of tools. It features all the most necessary wrenches and screw bits for the road, trail, and beyond, as well as a good chain breaker that can also be used as a spoke wrench and rotor straightener. The M20 is designed for tubeless riders and includes a container of tire plugs where a rider could also store a master link for chain repairs in the field. For those riding tubes, check out the nearly as well-featured M19 tool.
Easy to carry
Tire plugs are great for tubeless riders
Solid construction
No small parts to lose
Heavier than other options
No tire levers
5
Best Handlebar-Mounted
EnCase Bar Kit One
Key Specs
Weight: 4.6 ounces
Included Wrenches: 2-, 2.5-, 3-, 4-, 5-, 6-, and 8-mm hex bits; T10, T25, and T30 Torx bits; spoke wrench; valve core wrench
Additional Tools: Phillips #2 and flathead screwdrivers; tire plug tool; tire plugs; chain tool
While all of the components contained in this Wolf Tooth tool can be purchased separately, it's certainly handy to have them bundled—and protected by an included sleeve—the way they are in this multitool. This lightweight tool fits in your handlebars and the component parts can be easily popped out for repairs. The full set includes a set of 1/4-inch bits on one side and tire and chain tools on the other.
Easily fits on handlebars
Can extend functionality with additional 1/4-inch bits
Very expensive
Small parts can fall out easily
Rattles if not properly secured
6
Best With Chain Link Storage
Mini PT 30 Multi-Tool
Key Specs
Weight: 6 ounces
Included Wrenches: 2-, 2.5-, 3-, 4-, 5-, 6-, 8-mm Allen wrenches; T10, T15, and T25 Torx wrenches; multiple spoke wrenches; 10 hex socket
Additional Tools: Chain breaker; hook; master link storage; Philips and flathead screw bits; serrated knife; tire plug tools; polymer disc spacer
With the Mini PT 30 Multi-Tool, Topeak has crammed in nearly as many tools as it does in the ALiEN X, albeit in a much smaller and sleeker body. The Mini PT 30 has tools that should be able to handle just about any bike malady or other gear or household repair—including multiple Allen and Torx wrenches, multiple screw bits, a serrated knife, a chain breaker, and tire plug tools, among others—and is still more compact than much of the competition.
Impressive range of tools in a compact format
Easy to use
Expensive
Not the lightest tool out there
Has tire plug tools but comes with no plugs
7
Best Wrench Variety
T-Ratchet + Ti-Torque Kit
Key Specs
Weight: 7.8 ounces
Included Wrenches: Torque wrench; ratchet wrench; T10, T15, and T25 Torx wrenches
Additional Tools: 2-, 2.5-, 3-, 4-, 5-, 6-, and 8-mm hex bits; Philips #2 screwdriver; waxed carrying case
This miniaturized torque wrench kit ensures you won't over-tighten any pieces on your carbon-fiber bike. It's a great kit for tightening nuts on your bike, but doesn't come with too many other tools. However, its unique torque capabilities make it ideal tool for those who don't anticipate performing more intensive repairs themselves.
Variety of wrenches make quick work of properly tightening bolts
Stylish case and tools
Expensive
Doesn't have features of other multitools
Small bits are easy to lose
8
Best With Case
Ratchet Rocket Lite DX+ Tool
Key Specs
Weight: 7 ounces
Included Wrenches: 2-, 2.5-, 3-, 4-, 5-, 6-, and 8-mm Allen bits; T10, T15, T25 Torx bits
Additional Tools: Philips #2 screw bit; chain tool; two tire levers; ratchet tool case
This small ratchet set makes easy work of most common hex and Torx bolts. Topeak also makes a DX version of this tool that doesn't include the chain tool you'll get with this model, but we think this is the better value. It also comes with a magnetic bit holder, which makes it harder to lose small pieces in the middle of a repair. The main downside of this model is that it includes two tire levers, but doesn't come with any tire plug tools.
Ratchet drive and handle offers good leverage
Two tire levers
Includes magnetic bit holder
Lots of small parts are easy to lose on the trail or roadside
No tire plug tools
9
Best Under-Saddle Mount
Switch Wrap Tool Kit
Key Specs
Weight: 7.7 ounces
Included Wrenches: 2.5-, 3-, 4-, 5-, 6-, and 8-mm Allen bits; T25 and T30 Torx bits; spoke wrenches
Additional Tools: Flathead screwdriver; chain tool; disc pad spreader; Presta valve core tool
This tool kit comes with a wrap, making it easy to secure on your bike frame or under the saddle, and will keep its components contained if you toss it in a bag or tool box, too. The wrap also has extra space for a tube, CO2 inflator, and other tire tools—however, these extras will have to be purchased separately. The bits fit into both ends of the handle, allowing it to be used in either an L-shape or T-shape for leverage. The chain breaker also has spoke wrenches and serves as a disc pad spreader.
Case can accommodate extra tools and equipment
L- and T-handle configurations give good leverage
Custom-style bits will be hard to replace if lost
Doesn't come with any tire tools
This content is created and maintained by a third party, and imported onto this page to help users provide their email addresses. You may be able to find more information about this and similar content at piano.io