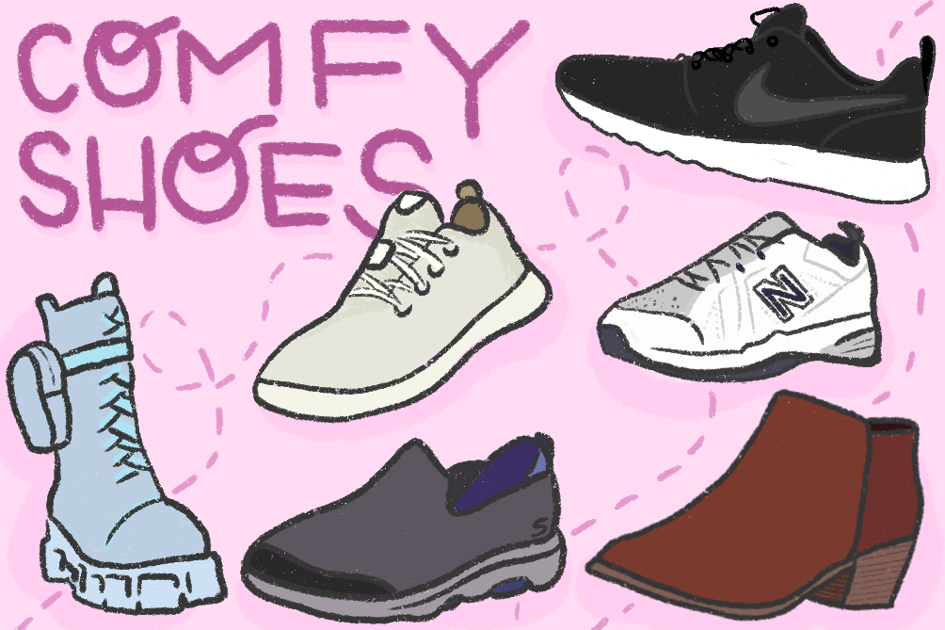 COLUMN: The most comfortable shoes for walking to class | Culture
You wake up and realize that today you have a class at Andersen Hall, followed immediately by a class on East Campus. You'll need adequate footwear for walking long distances. Looking in your closet, you see a whole rack of tennis shoes, boots and sandals. Sampling each shoe by speed walking around your apartment is out of the question. Flopping down on your bed and admitting defeat is the next best option, but unfortunately, your professor probably won't take "I can't find the right pair of shoes" as a reasonable excuse for not coming to class. 
To help you out, I spent all week walking around staring at peoples' feet. I took the brands of various shoes I saw and looked them up online to find their reviews and product details so I could accurately determine their comfortability. 
Then, I compiled a list of shoes that I gave comfortability ratings, with a rating of one being "like walking with bricks on your feet" and 10 meaning "your shoes are like clouds".
That way, you can take a look at this list every morning before class to make sure you choose the proper footwear for a long day of dodging buses and walking two hours to your evening psychology lab.  
These walking shoes are the best of the best. They're made out of merino wool, which according to the website, makes the shoes comfortable, moisture wicking and odor reducing. They are also great for the planet, with recycled shoe laces and a midsole made from carbon negative material. 
One reviewer claims the sneakers are able to withstand 20,000-step walks all over the subways and around town. If that doesn't convince you to choose these shoes for your heavier walking days, then I don't know what can.
Comfortability rating: 10
Sketchers Men's GO walk 5-Prized Sneaker
These easy-to-pull-on-and-off shoes are lightweight with cushioning and a high-rebound insole. The exterior is made from a mesh-knit material, and the back is padded for extra comfort on your ankle. 
I saw a man wearing these as he entered the business building, and he was walking very quickly without grimacing — if that is any indication of their comfort. 
The reviews were all relatively positive with some claiming the shoes helped to relieve prior comfortability issues they had with other shoes and any other walking pains. One reviewer said that they couldn't even tell the shoes were on, only that their feet were more happy.
A couple reviewers gave the shoes two stars due to the sneakers lacking ankle support and the fact that one shoe was looser than the other. One reviewer said the shoes fell apart quickly after they purchased them. So, as long as you make sure the sizing is correct and you don't walk too rambunctiously, you should be fine.  
Comfortability rating: 9.5
Men's Nike Roshe One Casual Shoes
I spotted these shoes on a man sitting in the Nebraska East Union. His legs were outstretched in relaxation, his face was serene and his feet looked comfortable, so I thought I would check them out. 
They have a soft sockliner, a cushioned collar for ankle protection and a cozy midsole. I always see nurses wearing these around the hospital, so they must be comfortable for standing over long periods of time. The reviews also rave about how lightweight they are. 
I used to have a pair of Nike Roshes, and while they were very comfortable, their traction wore down quickly, which eventually led to uncomfortable walking.
Comfortability rating: 9
New Balance Casual Comfort Cross Trainer
These shoes are the ultimate dad tennis shoe. They are chunky, white and would look perfect at the golf course. Made from real leather, they have a cushioned midsole that Amazon claims aids in absorbing forceful impacts. They also have a premium polyurethane comfort insert, which is similar to a memory foam insole. 
These shoes seem to be pretty comfortable, however many reviewers claim the shoes have too narrow of a toe box, wobble when placed on a flat surface and lose all support when in the rain. 
Comfortability rating: 8 (only when brand new and with no puddle stomping) 
Public Desire Wide Fit Intention chunky ankle boot 
These boots are wide fit, which means there is a lot of room for your foot to chill on the bottom of the boots' cushy, polyester interior. It also gives you room to layer socks for extra cold days. They also have a small zipper pouch on the back of the boots for you to store your lipgloss or really small pencils. 
The only real issue with these concrete stompers is that in warmer weather, having all that room for your foot may lead to blisters.
Comfortability rating: 7.5
Amazon Essentials Women's Ankle Boot
These boots have a slight heel to give you height and a padded soul for comfortability. They also come in neutral colors so you can wear them with any fall outfit. They are made out of faux suede, so if it rains on your walk to class they won't be entirely destroyed. 
According to the reviews, they are noisy to walk in. This can be positive because when you walk down the hallway, everyone will glance your way, which can boost your confidence and give you a main character aesthetic. 
Another review said they need to be broken in before they are truly comfortable. This is due to the stiff faux exterior. We're looking for a shoe that is comfortable straight out of the box, so these fall leaf walkers might have to wait for a day when you don't do much walking. 
Comfortability rating: 2
Of course, there are many other shoes people wear to class that I have not listed. If I were to list them all, I would by typing for years. Nevertheless, use this list however you would like, and hopefully it can act as a stepping stone to cloud-like walks around campus.