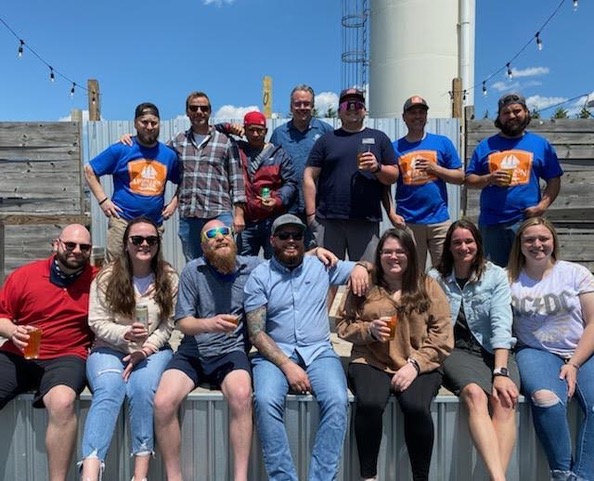 Exclusive summer drinks flow at Bethany Blues
Bethany Blues has some exclusive adult beverages for guests to enjoy this summer season.
As the beaches reopen and things get back into full swing, so do its offerings, like the new single-barrel whiskey from Buffalo Trace and a new collaboration with Mispillion River Brewing that is on tap and going fast. Restrictions are lifted, so patrons can belly up to the bar and enjoy exclusive pours from Blues.
Shannon Robison, Lewes location manager, was on site for the Mispillion Brewery collaboration, which brought a group of 10 employees from both locations to be active in the brewing process for the beer, Smoke Show. The lager is a rauchbier, a German-style beer made with smoked malt. The malt was smoked in Bethany Blues' hickory wood smoker and brought on site for the brewing.
Head Brewer Brandon Gouge took the group through the process during which they were able to be hands-on participants, grinding the malt and other ingredients to be added to the vat to be mixed with water and boiled, ultimately creating the Smoke Show brew.
"The beer is delicious. It's a bit on the dark side, but it's not hoppy, and goes down nice and smooth. You can really taste the smokiness, which is fun and unique to us," said Robison. She said they blew through the first two kegs at the Lewes location and have one left. The Bethany location has a bit left, too, so she's urging anyone who wants to try this collaborative beer to hurry in soon to get their pint.
Both Blues locations also offer an exclusive single-barrel bourbon from Buffalo Trace, and they are the only restaurants in Delaware to get this highly sought-after whiskey. Buffalo Trace products in general are often limited in allocation and difficult to get. It's a smooth whiskey, making it a perfect choice for drinking up neat, or in a cocktail like an old fashioned.
Guests in the Lewes location can try Ryan Minnick's award-winning, barrel-aged cocktails, which take the art of mixology to new levels. He has cracked a new barrel for The Prospector cocktail, which is a take on a burnt orange perfect Manhattan featuring Sagamore Spirit, sweet and dry vermouth, orange bitters, chicory pecan vanilla bitters and Grand Marnier.
For more information, go to bethanyblues.com.