This week marks the 25th anniversary of Clueless, Amy Heckerling's seminal teen comedy that paved the way for kids to ditch their grunge getups in favor of fashion findings akin to Cher Horowitz. Alicia Silverstone's iconic character may live up to the film's title regarding love, politics, and world affairs. However, she's far from it when you look at popularity and the latest styles. 
With Clueless celebrating its milestone birthday, Paramount Home Entertainment has released a dapper Blu-ray SteelBook, coated with a design that tips its black beret to the work of Mona May. The Polish costume designer has lent her immense talents to films such as Romy and Michele's High School Reunion, The Wedding Singer and Enchanted. But there's no denying May's plaid blazer and skirt designs, hat game and various accessories found in Clueless put her on the map. 
From the film's high-low style, forward thinking, and how the landscape of clothing has shifted, May offers insight into creating a fashion phenomenon.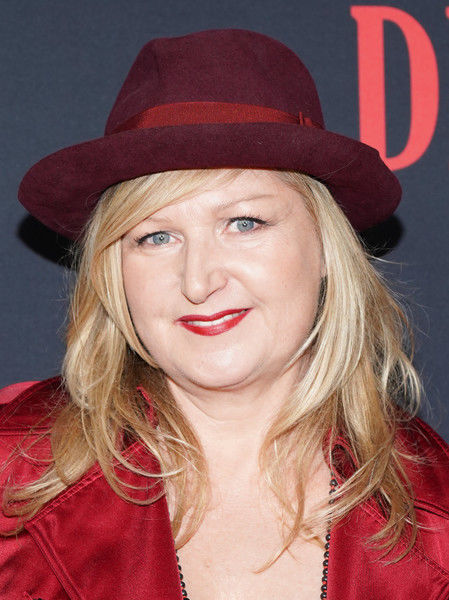 Preston Barta: What stands out the most to me after revisiting Clueless are the costume details. For instance, Stacey Dash's character, Dionne, has a Mad Hatter touch to her look at one point. Throughout all its clashes of color and textures, you find something that's so mesmerizing to look at and informative about the character. What was the creation process like for you then versus how it is now (where everything's in HD and often shot from multiple angles)? And were you always thinking about some of those details that we may not necessarily see on screen in its full-blown clarity?
Mona May: "Absolutely. I think that the whole project was such a creative endeavor. I met director Amy Heckerling on a pilot for another project, and (immediately) we just were like two peas in a pod creatively. She loved high fashion. I grew up in Europe, so I had a lot of experience with high fashion. Studying it and also observing it all my life. And when Amy wrote Clueless, she called me, and she said, 'You really are the girl for this job.' Because what was happening on the ground in the 1990s, before '95, it was all grunge when we were prepping the movie. So, there was not any information that we would have and how to create the film's costumes. Because if we just showed what it was then, it will be Kurt Cobain with a plaid shirt and baggy jeans." 
"My research really had to go into the future. What's happening on the runways in Europe, in London, in Paris and Milan, and then translating the information through the script into our teenagers' world. We really wanted to make sure that it reflected each of the characters. If you can look at my film history, at the time, I didn't know that my signature really is color and texture. It was something that came from me in assembly as I was designing it. But now when you look at my body of work 25 years later, it is something that I bring to the film. The femininity, the texture, the color, and the detail." 
"And in this movie, particularly, it was so cool that I got to do it for each of the characters. So really, taking Cher and creating all the color palettes for her skin tone – her obsessiveness of everything being perfect. And then being able to jump from there to Dionne, a very funky girl, who was more experienced sexually in a way. And she was sassy. She has a different skin tone that allows me to bring a lot of bright colors on her. She can wear the vinyl; she can wear leopard and fur that I think no one else could. I mean, having the fun character of Amber [played by Elisa Donovan] and really kind of going crazy with her from head to toe." 
"So to me, it's like I'm a painter. My paint box is filled not with paint brushes but clothes. So actors wearing colors on a screen together is important, how the textures and colors go together. What does it represent emotionally in the scene? Let's look at the outfit that Cher wore when she didn't pass her driving exam. It's very gray and monotone. So it reflects her mood. And the yellow plaid reflects the mood of the opening scene of a movie when she is the school's sunshine. I mean, she really is the queen. How do you present that outfit in the quad when a lot is going on, and there's a lot of green color? All of that is truly taken under consideration when we're creating each frame, each character, each costume, and the journey." 
That's amazing because I feel that mood you're communicating when watching it, but I haven't ever broken it down in such a way to identify all the factors that make me feel that way.You mentioned that yellow plaid outfit. It certainly took on a life of its own. I mean, it's the cover of this new Blu-ray Steelbook that's out. Does it surprise you what gets popular, what gets forgotten, and what doesn't find its audience?
"Absolutely. I think it's a mystery. I think it's like magic. No one can predict it. I get asked: Did we know that when we were working on the movie, it would be what it is? And there's no way. We get our script and actors. We've got the job to do and two months to prepare it. We get this amount of money, and we've got to do it. We dig deep creatively to bring everything that we have to the project and the characters. I think that's the mystery of art. I mean, why is one thing better than the other? It's really not. It's just kind of what takes. And what in the moment of all the forces coming together becomes popular." 
"I think that Clueless' success also – besides the movie being amazing, and the costumes and the script being great, the actors, the language in the film – is when the movie came out. The culture was ready for this. People were done with the plaid and the anti-feminine looks. The girls were ready for the clothes. Girls were ready to be feminine, to be girly, to be colorful, to have fun with it and explore themselves in clothes. They wanted to find themselves in each character." 
Hollywood has always presented itself as a glamour industry. How much of it would you say is glamour, and how much is it long hours and the proverbial blood, sweat, and tears?
"I think it's 100 percent glamour for the people from the outside because that's all they see, and it's maybe 70 percent of sweat and tears for us on the inside. We truly are the workers behind it. We have to get up at 5 a.m. We get actors really late to get them dressed. We have to create something in this crazy amount of short time and with no money. We have to deal with directors who can sometimes be impossible. We can deal with actors who are sometimes impossible. Things are very unpredictable. You could order a dress that's going to arrive today, and it never arrived because it's lost in the mail. And now you'd have to come up with a plan B quickly." 
"An actor may change their mind, too, on a day of shooting. They will say, 'Well, I don't really want to wear this outfit today. So what do you have in the closet that we can create today?' Or you walk on the set, and the decorators will tell you that the couch is green, and the outfit is green. And now she's going to disappear on the couch. So, I think it's a tough business. But I've stuck with it for 25 years or longer because I love it. I love collaboration, and I think that's the beauty of this business." 
"Working with Amy, who's so creative and so truly genius, it was a dream to support her vision and collaborate. When she goes, 'Let's make more hats.' I'm like, 'Great! Let's wear more hats. Let's make it fun. Let's make it silly.' Oh my God, it's like music to my ears as a creator." 
In that early scene with Cher, when she's using that computer program that mismatches all these different outfits, something occurred to me. One of the areas that interests me is that intersection of storytelling's art with the technology advancements. Are there any aspects of your job that are getting easier or more economically feasible with your field's latest technological tools? 
"That's an interesting question because I think there is both. Certain things do get easier. Sometimes shooting digitally is quicker. But I think the harder part is that the camera becomes so sensitive that the colors are almost too intense. And the pattern strobes, not only because of the pattern but the weave of the fabric. So, there's this advantage of it, but there's also a loss." 
"I've done a lot of CGI work. I did Stuart Little. I work on a lot of costume design with computers. And that's fun, and that's becoming bigger, too. So it's an advantage for us to be able to do something on a different platform." 
"For instance, in Enchanted, it was interesting to work through the 2-D animation with live-action and CGI characters. The characters went from a cartoon to live-action. And then the character of Maleficent turned into a dragon. So that's really cool that now with the technology, we can swim through the different mediums in a way." 
I know we're about out of time, but my teenage self would be very upset if I didn't ask about working on Never Been Kissed and all those great costumes. The prom dance with its theme… That movie was so important to me when I was growing up. 
"Drew Barrymore is one of the most creative people I've worked with because she's so open. And with her creating this insane character, it was so much fun because there was so much to be exposed about her character. She was kind of the ugly duckling initially, and then the silly, crazy girl when she goes to school on the first day with the boa and the crazy purse and her white outfit. So, the journey of this character was so incredible. And then the support of the costume was –– I mean, she wouldn't exist with what we were able to do with the costume to show her journey, emotional journey through the film. And the delightfulness that Drew also brought to that. It was one of the really great experiences working on that film because of the character's journey. 
"It goes through so many different transformations to the end where she became who she is. She grew. In the end, she's this gorgeous girl with her pink dress, chiffon dress waiting for him to come to the stadium. And look at femininity. Look at who she became from the beginning to the end. And that's just kind of the dream of my job. And I think that's what working with actors like Drew Barrymore is, and great directors who support that." 
The 25th Anniversary SteelBook Edition of Clueless, from Paramount Home Entertainment, is available to purchase today. The special release includes over an hour of previously released bonus content, such as a trivia game, a fashion featurette, a look at the class of '95, original theatrical trailers, and more.