LG is adding a new smartphone to its Dual Screen lineup, the LG Velvet, a $600 device that's a beauty in its design. The device is a work horse of an Android phone, with 5G and double the screen real estate, with the Dual Screen option. We tried the LG Velvet smartphone, which the company sent us to review, and here's what we found in terms of its features, and also its photo-taking abilities.
Design
The new LG Velvet is truly one of the most beautiful smartphone's I've ever held in my hand. It has a slender feel, with a curved almost futuristic waterfall screen on the front, and a gorgeous sliver of silver on the back, with the (much talked about) cameras dripping down the side.
I felt like I was holding a 1940s cigarette case in perfect condition. It was a joy to look at it, and have in the hand. It's often difficult to make an Android look other than, well, an Android. But the elongated size and the curved sides helps the LG Velvet achieve a really elevated look.
LG sent me a silver-colored phone — which made the back an absolute fingerprint magnet. You can, of course, fix this by adding a cover, and since a cover is almost a necessity to protect a smartphone, you're going to want to get one. But it's painful to cover up the back of this phone.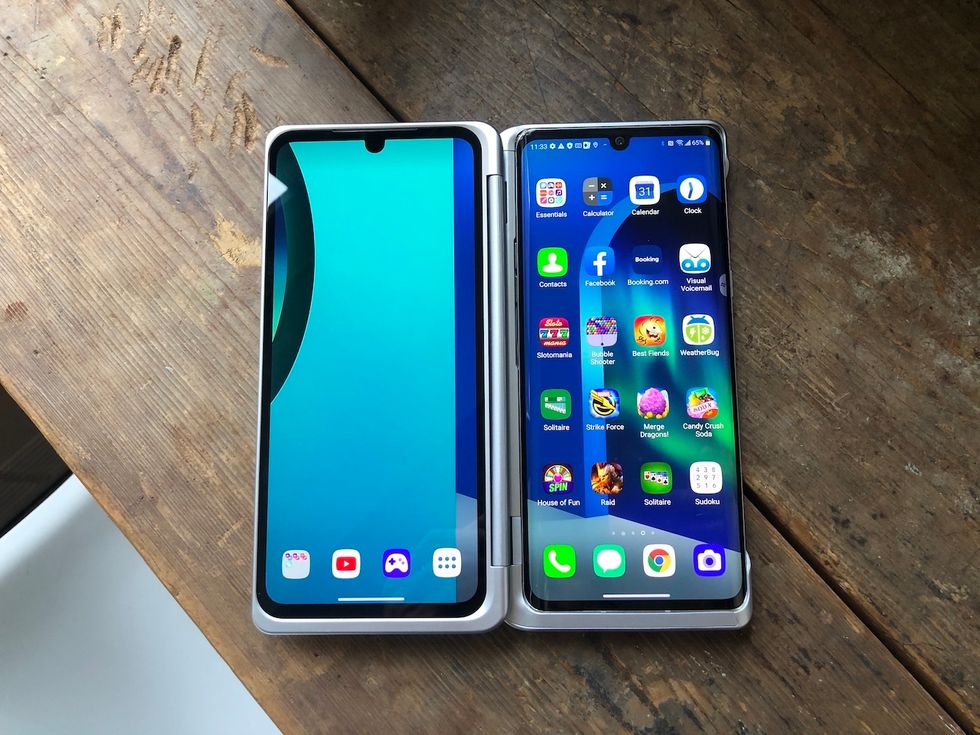 The LG Velvet (on the right) fits into a Dual Screen to double the real estate of the screenGearBrain
Features
You get a ton of solid features packed into the LG Velvet. First, there's you get a nice headphone jack with the LG Velvet. Also, this a 5G phone, which is almost expected with newer phones coming on the market today. Battery size is also decent with a 4,300 mAh. We had no trouble with the battery easily lasting a full day, and then some. And the phone can be accessed via a fingerprint reader and also a PIN, pattern and passcode, pretty standard.
One thing you're not getting with the LG Velvet is the upgraded Qualcomm Snapdragon 865 chip that many LG phones have had, including the LG V60. Instead this phone has a Qualcomm Snapdragon 765G, but it still can support Wi-Fi 6, Bluetooth 5.1 and, as we mentioned, 5G.
I also did find the screen not always responsive, requiring I press onscreen virtual buttons multiple times. It's not a deal breaker — and to be fair this does occasionally happen on my iPhone X. But it's worth noting.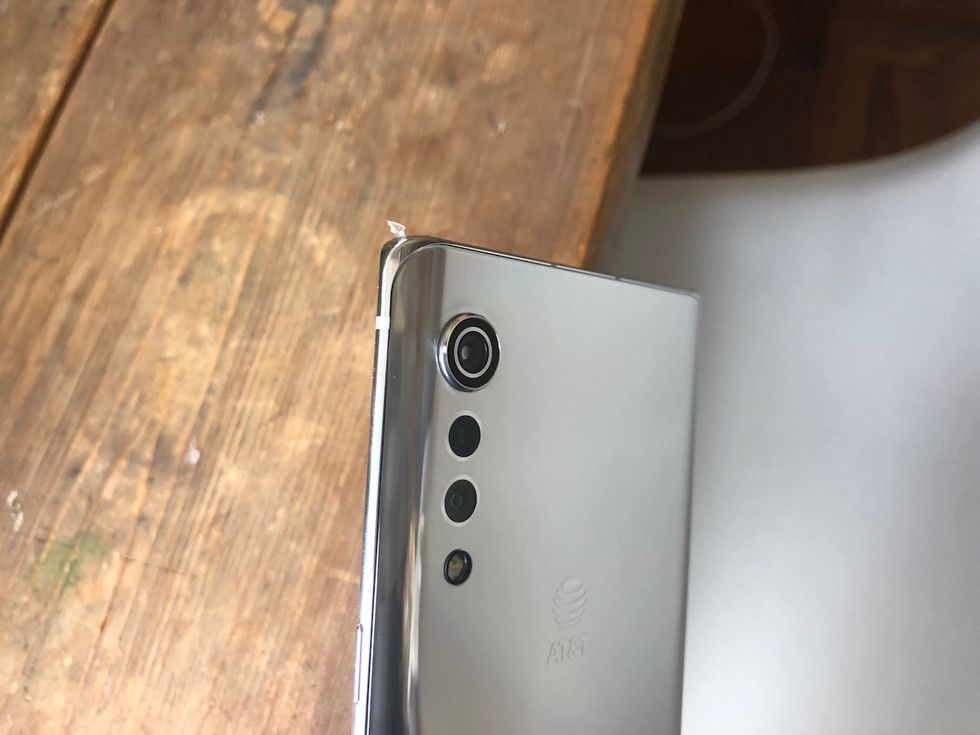 The LG Velvet features curved edges and a reflective backGearBrain
Sound
The LG Velvet has stereo speakers and also features something LG calls the 3D Sound Engine, which purportedly uses AI to read the surroundings so it can create a perfect soundscape for the environment. This adaptive sound feature is something we see more of, not just here but also in headphones, the ability to tune the sound that's playing to fit your hearing needs — or in this case what's happening around you.
The LG Velvet also has a feature called Voice Bokeh. With images, you may hear this word used in a feature called Bokeh Blur, which produces a softening, or out-of-focus look, that can help to sharpen what you're looking at in the center frame.
There's a similar effect with sound here, allowing you to select out someone's voice when recording, punching it up and over any background noise, and sharpening the sound. You can also manually adjust that, with three settings: ASMR, Voice Bokeh and standard, which is no effect at all. We tested all three: The differences are startling.
The standard setting created a flat tonal result, typical sound you'd get when recording from a smartphone, without any highs and lows. Picking ASMR produced a brighter, crisper sound, as if we had a professional microphone set up around us — not a smartphone. Voice Bokeh returned us back to almost a standard sound, and yet our voice was distilled a bit more, certainly lifted up from the ambient noise around us.
For anyone using their smartphone for webcasts, quick video hits or just family videos, these audio options are an excellent option.

LG Velvet image on the left, iPhone on the rightGearBrain
Camera/Photography
Much has been made about this new teardrop design with the cameras cascading downward along the back. It absolutely is pretty, there's no doubt on this. There are three cameras on the back — a 48MP, f1.8 camera, a 8MP wide camera with an f2.2, and a 5MP depth camera with an f2.4. The front selfie camera is fairly normal, a 16MP camera with an f1.9.
We decided to test the camera against how they fared compared to a fairly old (now) iPhone X.
On all three shots, colors just appeared less bright, almost flat, with details just not as sharp as Apple's device. Granted, we did shoot these in the late afternoon, and while the light was softer, the photos from the iPhone X were still able to pick up a lot of details and highlights, while those from the LG Velvet were a bit darker and softer. There was also more differentiation between foreground and background. The cameras, unfortunately, did not impress.

LG Velvet image on the left, iPhone X on the rightGearBrain
Fit into Dual Screen
Given how beautiful the LG Velvet is, you shudder to put it into a case — or in the Dual Screen. But the Dual Screen really amplifies the way you can use the smartphone, and so it's worth picking up, especially for the extra space on which to work.
The LG Dual Screen for the LG Velvet is different than the one for the V60. Some have noted that it's lighter. We actually didn't feel that, at least not noticeably. Also, the updated Dual Screen does lose the front reflective side, the one with the sliver of a screen that shows the date and time. I missed that mirrored surface. The new silver cover, by comparison, looks quite cheap, and something that felt would get easily scratched and marred.
This Dual Screen, like the other, required the same small extension piece to charge the LG phone when it's in fit inside and it also flips to180-degrees and and completely around, to sit flat square against its back.
The LG Velvet slides into the Dual Screen the same way, fitting the piece at the bottom on the charging port, and then snapping the top into place. You can also use a pen to take notes on one side — and some apps do support Wide View, which means they can stretch across both screens.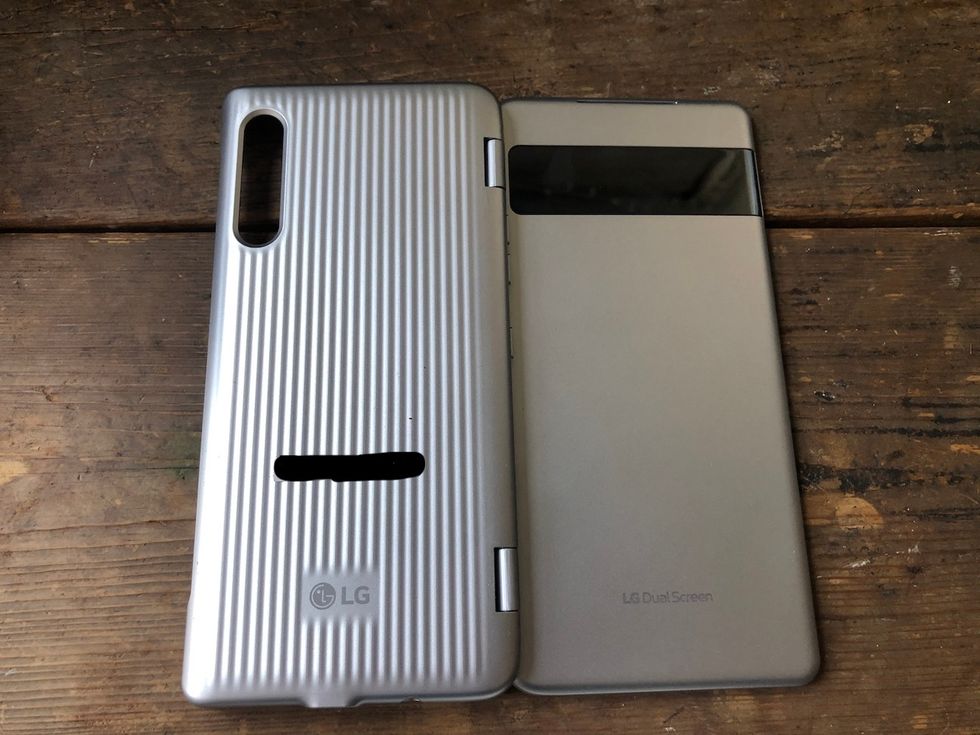 The Dual Screen opened, from the backGearBrain
Price
Currently, the LG Velvet is only available in the U.S. via AT&T for $599.99, and Verizon for $699.99, according to LG's site. You can pick up the LG Velvet in six different color backings, a reddish orange called Illusion Sunset, Aurora White, Aurora Gray, Aurora Green, Aurora Silver and New Black.
Spigen Rugged Armor Designed for LG Velvet Case (2020) – Matte Black
Worth buying
If you're in the market for a new Android, the LG Velvet is certainly worth a second look. It's a gorgeous design, something beautiful to hold, and the Dual Screen is a great feature especially today. We liked the accessory when we reviewed it with the LG V60 and we still like it now. We think the redesign isn't the best in terms of looks, but having two screens to utilize today is a plus with the work-from-home set up most of us are experiencing as Covid-19 has still not let go.
Audio recording options are truly excellent, given the webcasts and videos most of us now record, daily. Photos, however, were a disappointment, not picking up as much of the detail and color in scenes as we've seen other LG smartphones do. Given the price of the smartphone, that's not ideal. While we can certainly punch up images today in photo editing apps — and even on our smartphones as well — that's certainly something to consider before signing up for this Android.
Pros:
Beautiful, slim design
Dual Screen increases screen real estate
You can select different audio recording settings
Cons:
Photos were disappointing, even compared to other LG phones
Only available currently through AT&T and Verizon
Price