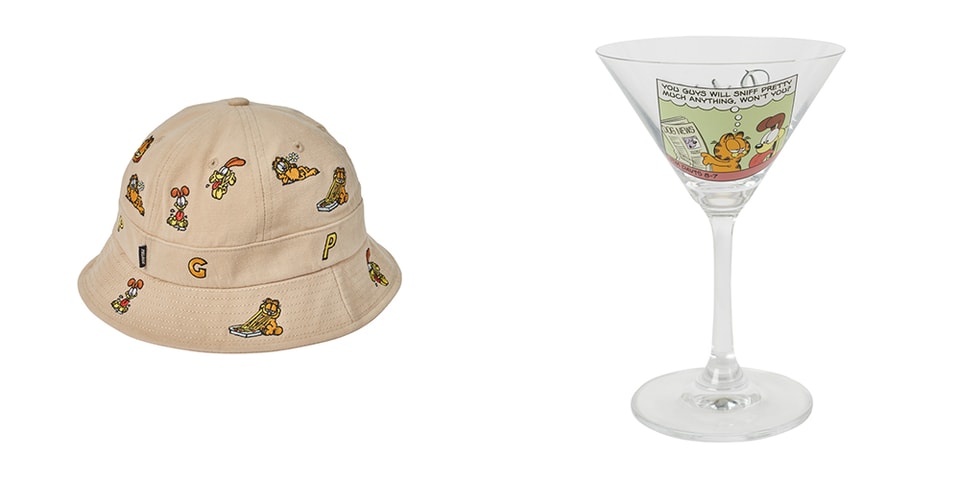 Palace Fall 2021 Hats, Hardware, Accessories, Decks
Palace is back for Fall 2021, and after previewing the collection in an extensive lookbook late last month the London-based skateboarding giant has offered up a better look at the hats, hardware (e.g. skateboards), and accessories that are dropping over the coming weeks.
This season, Palace has teamed up with the Jim Davis-penned comic strip Garfield for a multi-dimensional capsule that spans clothes and accessories, but notably, there is also a variety of home goods that claim first place for this drop. A must-have includes the Garfield martini glass that reads "But I had a busy morning…" (because we all need a cocktail around 10 a.m. in Palace's world), and also the Garfield toy — 100-percent based on the character, served up in a box, and destined to be a collector's item much like Palace x Polo Ralph Lauren teddy.
Elsewhere, Palace serves up a range of premium accessories such as cardholders, bumbags, and notable pieces such as the Ankr-inspired Tri-Ferg logo necklace in gold, which plays off the ancient Egyptian hieroglyphic symbol that represents life and is, in itself, the symbol of life itself.
Zippo lighters, stickers, and of course an array of decks also appear, with some decks sporting graphics such as the "iBun" design that's been applied elsewhere in the Fall 2021 collection.
Palace's Fall 2021 collection is set to drop on August 6 in the U.K. and U.S. via the brand's online webstore and in-store at 11 a.m BST/12:00 p.m. CEST/11.00 a.m. EDT/8:00 a.m. PST respectively, while an August 7 drop is set to follow in Japan both in-store and online, as well as via the Palace WeChat channel.
For more from the latest drop, make sure to check out other offerings in the following categories:
– Outerwear
– Knitwear, Hoodies and Sweaters
– T-Shirts and Longsleeves
– Shirts
– Trousers