Something strange happened in my fashion world during the early part of the fall season — just as the weather began to change from shorts to long pants. But things didn't really crystallize until that burdensome closet tsunami, when the ski and winter supply get brought forward to the front. What was different this year — past the obvious lack of need for party clothes, with our canceled social lifestyles — was that even after all the Marie Kondo-style tidying and obsessive closet purging, there still remained a particular dissatisfaction in the air.
When a trusted best friend from my very small COVID pod came over for a cocktail, I dragged her by the arm and had her stand in survey of the now immaculate closet.
"Literally, 85% of what's in here looks and feels irrelevant," I blurted out.
"How could this happen?" I asked.
"What of all this?" I said, tugging at A-line retro dresses and tailored pants, multiple jackets and shelves of leather shoes: heels, flats, the whole gamut. Anything other than a flip flop, a sneaker or a tough or soft winter boot for our seasonal weather seemed tragically outdated.
"It's true!" she exclaimed, in puzzled agreement. "I agree there's been a shift."
"An earthquake, more like," I chimed in, eyes rolling.
We pondered this concept over another drink and came to the following conclusion: There had been a documentable shift — past COVID-19 and the casual Zoom outfits that had slowly emerged as acceptable after months of laptop work from the couch, past the antagonistic political atmosphere that thrust a fashion evolution into a relaxed mode in countermotion to the stress of it all. Yes, we were sure. Something bigger had happened.
As two fashion followers whose work crosses over into fashion pulse (she as a gallerista and I as a style scribe and photographer), we'd come to the same verdict in judging the new reality brought by the novel coronavirus. That is, in a seismic moment, it was necessary to shelve or store a multitude of apparel to the decadeslong storage, not just seasonal storage — and that it had all happened in an instant. Almost all heels, structured dresses, anything with architectural details, anything constricted like belting or belts and anything with even a whiff of suiting. All of it felt irrelevant, out of style, out of context and, more importantly and hardest to document, not appropriate to wear even in irreverent or ironic ways.
It felt wrong, all of it. As if fashion had lost its sense of humor. And no wonder, with what we've been through this year.
Confirming suspicions
Amazingly, just a few days later, as if to prove we were not dreaming it up, the perceptible paradigm shift was being reported in the mainstream. Two New York Times articles relating this thinking appeared in quick succession. "Leggings Take A Victory Lap," on Nov. 14, was essentially a recognition that in the COVID era, fashions for both working out and working in at home had blended for comfort's sake. The piece also served as a reflection that a deeper psychic adjustment was afoot.
"Fashion is a moving, breathing entity and changes whenever there's a great upheaval in society, like a war or a pandemic," Hayley Krischer wrote in her piece, reminding readers of a well-known fact — that previous historical events have created context for shifts.
And I think this gets to the heart of it. We know intellectually what happened in history, but being the witness to it — in the now, personally, on the ground — is jarring. We expect that trends evolve slowly, it's the shock and awe that this phenomenon woke us to that feels so abrupt. One minute, we were going to work in a curated quasi-formal, professional-funky, street-smart look to fit corporate identity and then do double duty as we headed out into the after-work evening culture. Next we know, such context no longer exists, rendering our personal styles immaterial and in need of total reinvention.
On Dec. 1, another piece — "Goodbye, Blazers; Hello, Coatigans. Women Adjust Attire to Work at Home," by Sapna Maheshwari — appeared. This one reports on a 20-something Google advertising sales executive finding it hard to wrap her head around the potential of getting back into formal wear when the office resumes. A Bloomingdale's executive, Denise Magid, was quoted as predicting that people will not give up their newly acquired comfort so easily.
I think the subtler and more nuanced point of view is that we can — if so choosing — go through the motions of getting dressed the way we used to, but it will likely feel wrong and, stylistically, we will have to reinvent. In navigating the pandemic, we've collectively stepped too far off the trail to find our way home via that route.
Process and reality
Maheshwari mentions The RealReal, a popular online designer resale site, as being deluged this summer with work dresses after huge closet clearings. Clearly, the whole fashion tribe is experiencing this together. And now, almost daily, there's a new piece written about the "feelings" associated with dressing. My bestie and I differ in that whereas she's prepared to store items in the hopes of a decadeslong fashion-cycle rediscovery, I'm more impatient and happily purging mine.
I still cannot believe the insane line that formed outside the Aspen branch of Lululemon during the summer days. Yes, ours is a small footprint for a fast-traffic store with social distancing in place, but all day, every day? Really? I would pass by and scream in my head:
"People! There's a Lululemon in Everytown, USA, and it's widely available online! Why are you lining up to shop during your travels here? Do you need a pair of socks for a hike, today? Now?"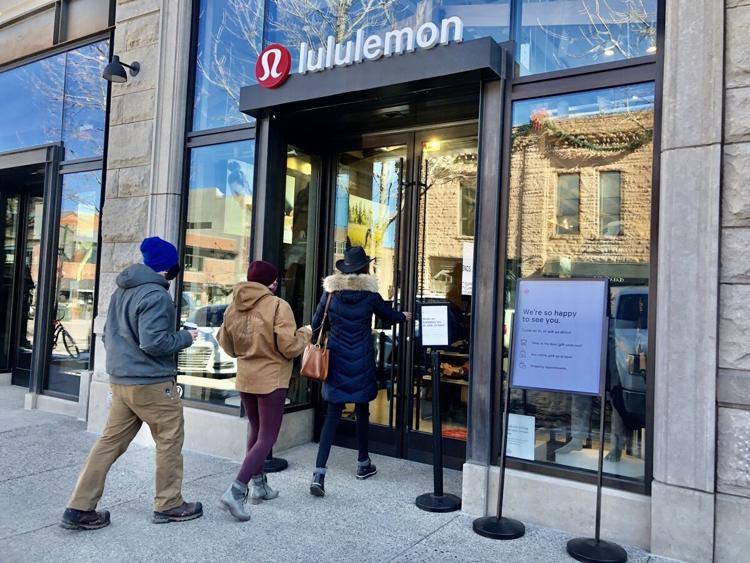 I knew the answer: No. But I ­understand the obsessive need to shop. It's a form of control, and at this time, we've had very little of that. It's satisfying to pick, to pay, to leave, to wear. During this time, too, more than one friend confessed to obsessively binge-buying cashmere loungewear, online of course. Our future as unknown is scary, and cashmere provides comfort, literally and metaphorically.
With 370 stores across the United States, the Lululemon brand is a pandemic success story. On Thursday, Lululemon announced its third-quarter fiscal results for 2020: revenue increased 22%, to $1.1 billion. This brand is feeling they have space to expand more brick-and-mortar outlets, if you can believe it, at a time that is crippling others. It was even reported mid-September in Fortune Magazine.
We do have an athleisure culture here, with our multitude of outdoor activities and packed sporty lifestyles. I wear athletic items for a huge component of any day, especially in the winter, when layering replaces outfit changes. Pre-COVID, creatively curated outfits emerged using base layers as underpinnings to maximize outdoor time efficiently into the day — something that is mountain-town generic, not uniquely Aspen.
Without leaving the mountains to reconnect with fashion centers New York, London, Paris or Milan, the fashion perception can dull somewhat, and with no travel, I have a more focused acknowledgment that we have our own code here. Offseason versus on-season. Upper Roaring Fork versus downvalley styles. Visitors to Aspen stand out sometimes by arriving dressed in what they think looks right and works for here, but it's a mismatch: too much fur, wrong kind of heels, too much jewelry and urban pocketbooks and jackets.
Plaid shirts are unisex uniforms here. They can be quite feminine and technically have collars and so look "formal" while feeling just like pajamas. In the COVID era, a plaid shirt that went on a hut trip could hike its way out of the forest and subsequently attend a Zoom meeting, as long as it met an iron or a washing machine along the way.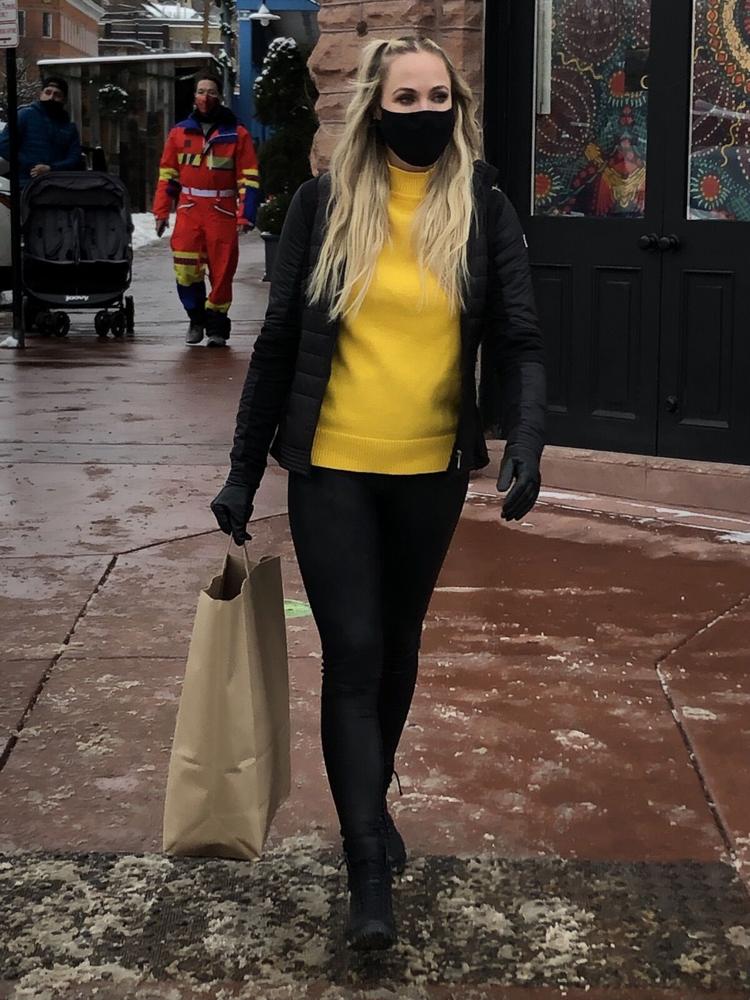 Early in this crazy pandemic year, fashion stories focused on commentary comparing Spanish flu to COVID-19 styles. These always featured black-and-white photos of highly stylized masks covering the face or "flu-veils" — the chicest ones matched the hats that were attached. Wearing gloves was still part of polite fashion, so no adjustments there. The mask issue — to match or not to match according to your outfit — is really another whole investigation, another whole, evolving story for another day. Hemlines up and down throughout history related to boom or austerity. Long when things were lean and short when prosperity and hope rose. No doubt, this predictor was accurate when despair marked our spring and summer and maxi dresses fell right back in to play.
Looking forward
But what of the era to come, post-COVID? I have a feeling that the fashion vernacular may not include all kinds of things we think of as "now." Even Vice President-elect Kamala Harris is Lycra-clad to the nines when not in her pantsuit. And she's sneaker-shod — which only serves as a foil to the Trumpian woman, with stiff hair, stiff dresses and outdated heels. At the outset of the last administration, those dresses and looks could have been described as sharp and confident. How things have changed.
To that end, Jill Biden's style no doubt will evolve further. In a recent Sun newspaper side-by-side photo essay, the existing first lady is compared stylistically to Mrs. Biden, in outfits identical in descriptive terms but entirely different in tone. Jill Biden is fit and can wear form-fitting but manages flourishes of drape, swirl and flare — all styling that screams "freedom."
Will there be a moment when event dressing doesn't look ridiculous? Obviously, much depends on personal life and lifestyles. This moment may even shift wedding fashions. Who knows?
I do however think we will likely look back on this moment and label it The Pandemic Period. I have no doubt that we can expect a carefully curated show at The Costume Institute at the Metropolitan Museum of Art in New York to encapsulate the new "forgiving" styles.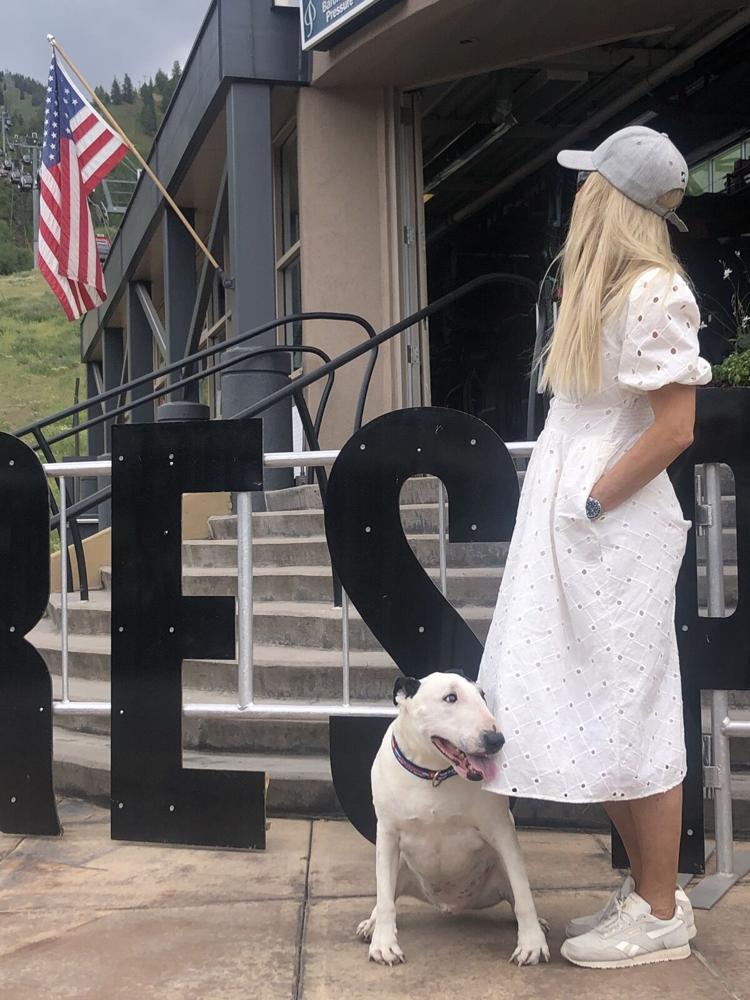 I bought a $20 dress clip from an e-shop on ETSY based in London, where I'm from. I've worn it with both a loose, flowy boho dress and sloppy sweater and high-top sneakers, or combat boots — my personal COVID-casual uniform. It was a small vintage item that gave me meaning and connection to my place of birth, as if looking at it, one could hear "keep calm and COVID on," just like the old World War mantra from across the Pond but applied to our time. I know others who have purchased a memento — a charm bracelet add-on or piece of jewelry — to commemorate this strange time. In order that we are not revisionist when past this evolution, these items will recall the vibe: how we were affected psychologically and how that flowed through our fashion choices.
You can contact Susan to report your COVID-dressing dilemmas. [email protected]