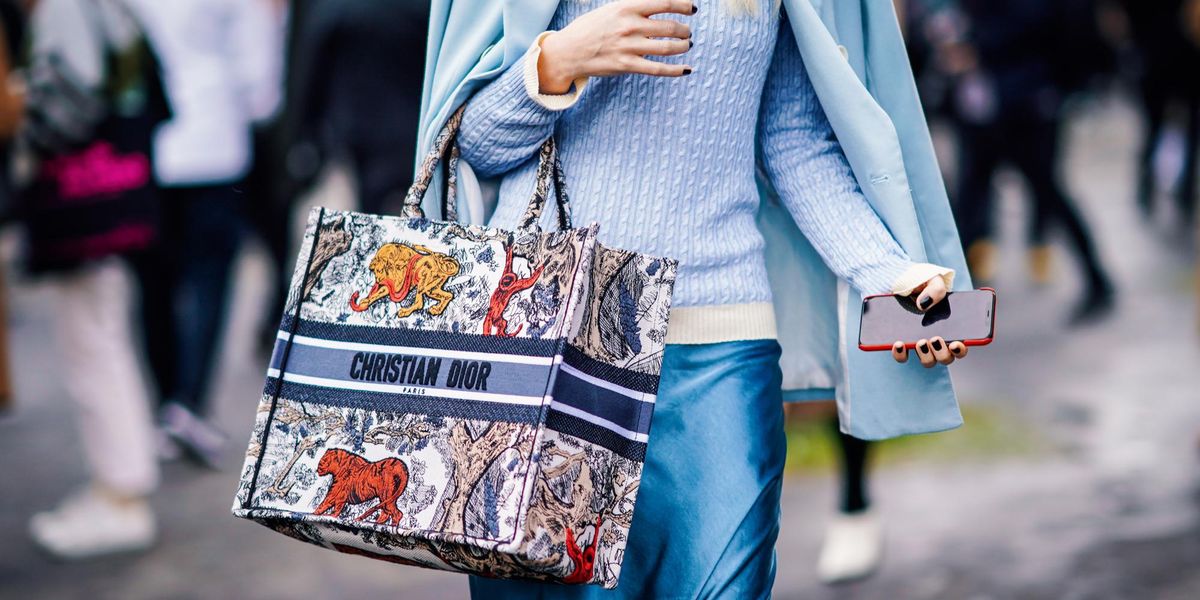 Shop Chic Reusable Bags to Stock Up On
Reusable bags: Once relegated to hippies and die-hard environmentalists, we've all caught on and find ourselves toting, well, totes along with us everywhere from the farmers' market to the bodega. Especially now that some areas have banned single-use plastic bags (NYC!), we thought it would be fun to ask our chicest friends what their go-to reusable bag might be.
In so doing, we were surprised by the breadth and depth of the options. From a mesh version of the classic Baggu to an incredibly chic (and relatively affordable) string-and-leather bag from Longchamp, we'll never go to the grocer with a sad old canvas tote again.
Photo: Courtesy of Karissa Allen and Justin Cox
"Our first choice is the Longchamp Le Pliage Filet Knit bag—chicest of the chic! We love that it has a cotton mesh body that is perfect for picking up fresh produce from the market, but the leather trim makes it feel like a shoulder bag. Great for days running errands and then meeting up with friends for lunch.
"Our lower price-point pick is this reusable bag from Baggu. We love that it can be folded up in between uses, and the pattern of this one is especially fun and reminds us of our Smiley Face Basketball Planter."
Photo: Courtesy of Danielle Chang
"My go-to is Bao Bao Issey Miiyake's handbags. Love this Baguette bag in white, which is a perfect shade that goes with everything, from summer to winter. It's so light, easy to fold (inspired by origami), and perfect for travel."
Photo: Courtesy of Kimberly Dillon
"I love the Apolis Market Tote because it's stylish and sturdy and you can customize it. The monogram tote is a perfect gift because everyone needs a sturdy bag, and why carry that random bag you got from that last trade show when you can create your own vibe?"
Dermatological nurse; celebrity aesthetician
Photo: Courtesy of Natalie Aguilar
"I love using the reusable totes from The Little Market. They have collaborated with many non-profit organizations. They are strong, cute, fashionable, and made from sustainable jute fabric. They make bold statements, and because they are cute and neutral, they go with every outfit. Plus they have a huge selection!"
Photo: Courtesy of Alicia Sandve
"Baggu is an AAPI-owned brand and has the cutest range of reusable bags that are eco-friendly and sustainable. Their signature Mesh Bag is my favorite and comes in a ton of different colors and prints. The malachite green is so chic."
Nicole Dean
Founder & CEO, KOLLO
Photo: Courtesy of Nicole Dean
"My go-to reusable bag is from Farmshop. I find myself reaching for this beloved tote bag as, being a beverage business owner, I often have to transport heavy product samples for meetings and love the heavy-duty sturdy handles that can withstand a lot of weight day after day. The waterproof lining is also crucial for avoiding any potential spills."
Photo: Courtesy of Angela Jia Kim
"I love the versatility of Everlane's Canvas Basket Tote in toasted coconut—it's perfect for travel, and it holds absolutely everything, whether I'm shopping for dinner ingredients or walking the dog in Central Park."
Photo: Courtesy of Kirsten Kjaer Weis
"I always use the Kjaer Weis tote bag—our 10-year-anniversary tote designed by NYC artist Christina Zimpel. I also love the Better Farm Co.'s reusable shopping bag set, which includes two totes, two canvas and string bags, and 10 mesh produce bags."
Photo: Courtesy of Wilma Mae Basta
"Since I live in New York, I recently had to buy myself a reusable bag to start using. I wanted something that was chic and would complement any outfit I was wearing. I found this tote from H&M and can't wait to use it both around the city and on a few upcoming beach vacations I have planned."
Evonna Kuehner
Founder, ANOVÉ
Photo: Courtesy of Evonna Kuehner
"My favorite reusable bag is the Full Circle Tote-ally Reusable Bag—I'll never go to the grocery store without it. It's made from recycled plastic and folds up into a small pouch, so it's easy to carry around or leave in your car whenever you need it. The bag has a ton of pockets for organizing your groceries, and it's machine washable in case anything spills on the way home from the store."
window.REBELMOUSE_ACTIVE_TASKS_QUEUE.push(function(){
window.REBELMOUSE_STDLIB.loadExternalScript("https://htlbid.com/v3/coveteur.com/htlbid.js", function() {
});
});
window.REBELMOUSE_ACTIVE_TASKS_QUEUE.push(function(){
!function(f,b,e,v,n,t,s){if(f.fbq)return;n=f.fbq=function(){n.callMethod?n.callMethod.apply(n,arguments):n.queue.push(arguments)};if(!f._fbq)f._fbq=n;n.push=n;n.loaded=!0;n.version='2.0';n.queue=[];t=b.createElement(e);t.async=!0;t.src=v;s=b.getElementsByTagName(e)[0];s.parentNode.insertBefore(t,s)}(window, document,'script','https://connect.facebook.net/en_US/fbevents.js');fbq('init', '1248680838922690');fbq('track', 'PageView');
});