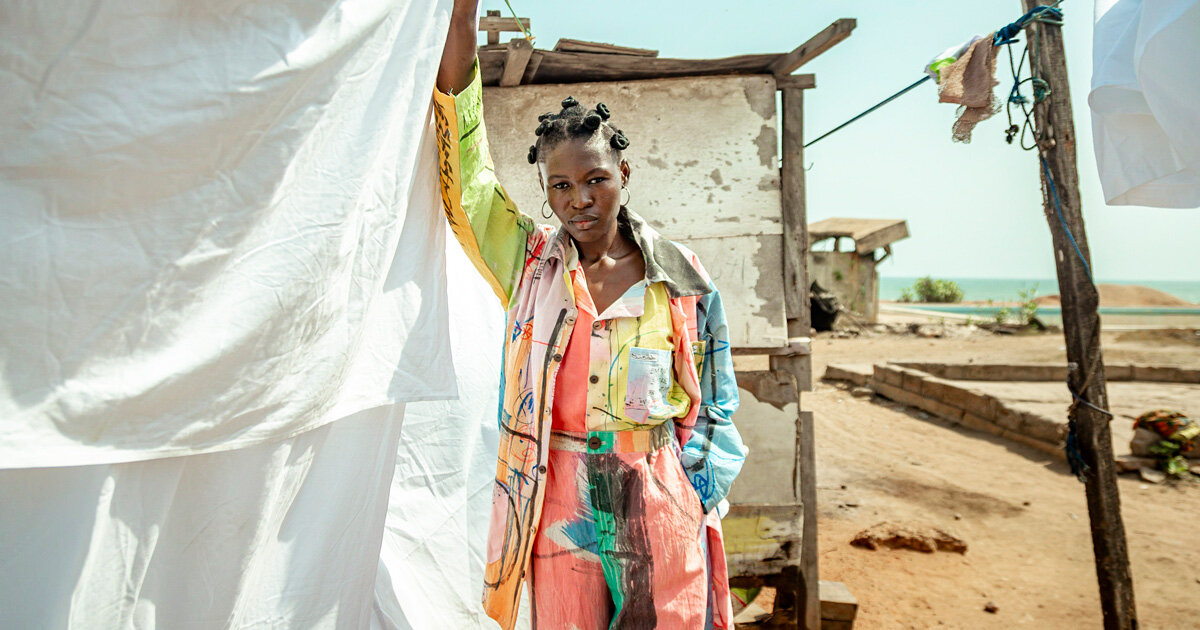 the slum studio is turning clothing waste into hand-painted apparel
'if you're in the global north don't say you don't know that donated clothes end up in africa,'  sel kofiga, ghanaian artist and founder of the slum studio, tells designboom. a welcome antithesis to fast fashion and greenwashing, the slum studio is an accra-based brand that sources textile offcuts and second-hand clothing waste from markets in ghana and turns them into colorful apparel. the ethical clothing line is highlighting issues of overconsumption, mass production and fashion waste while creating bespoke upcycled pieces that illustrate the vivid stories of these second-hand marketplaces through glorious colors and illustrations. 
in this interview with designboom, kofiga talks about why he first formed the slum studio, the politics of fashion, and what individual consumers can do to become more responsible when buying — and donating — clothes.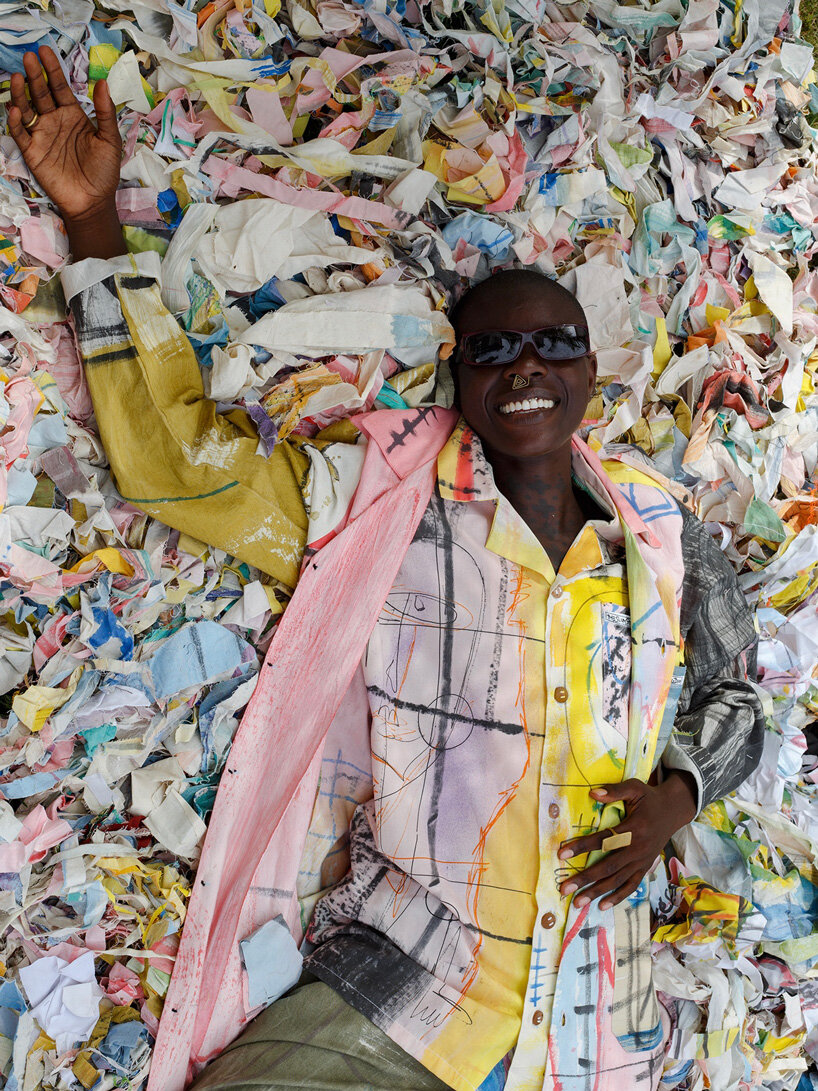 image by kwesi mufasa
designboom (DB): you are firstly a multidisciplinary artist. what led you to fashion and what inspired you to form the slum studio?
sel kofiga (SK): my practice, which comes off as an interesting intersection of many things such as performance, installation and abstract expressionism, aims to highlight the various meanings of how the body and object co-exist in a space. i've always been fashion-oriented, it is something I see to have an intriguing performative element culturally and aesthetically. so I wanted to explore it more. the slum studio started as a medium to talk about the kayayei, a force behind second-hand clothing redistribution in ghana. while I wanted it to be an expressive access point to my audience, I also wanted it to be a space where I can always go back to while exploring and finding meaning to many other things happening around me.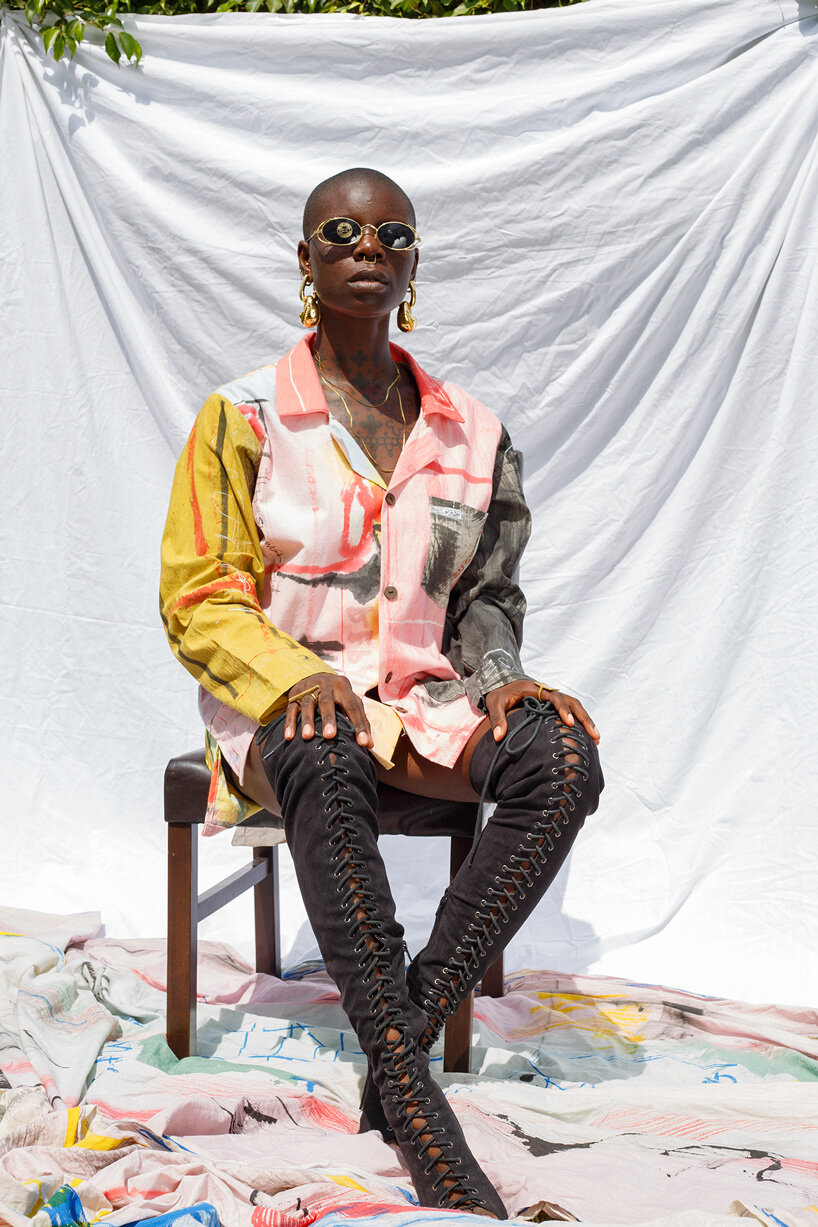 image by fibi afloe
DB: you recently reshared a quote from architect francis kéré from when he spoke to designboom about his view on sustainability, and the trend of sustainability. what's your view on sustainability in fashion. is it frustrating to see fast fashion brands jumping on the bandwagon just to sell even more products?
SK: it is so surreal that my work is being featured among some of these great minds, legends to say the least. when you wrote to me, I was shocked to be honest. I think these great minds, francis kéré, lesley lokko, richard rowland, etc whose work I love so much have an interesting take on sustainability in their practice and they deliver it at all times. my dad was an architect too, I don't know if it had any influence on me but I like to look at things through structure, shape and form. the kind of role color and object play in our urban spaces is interesting, and as creatives, it is even more important to relook at the things we invite into our creative process.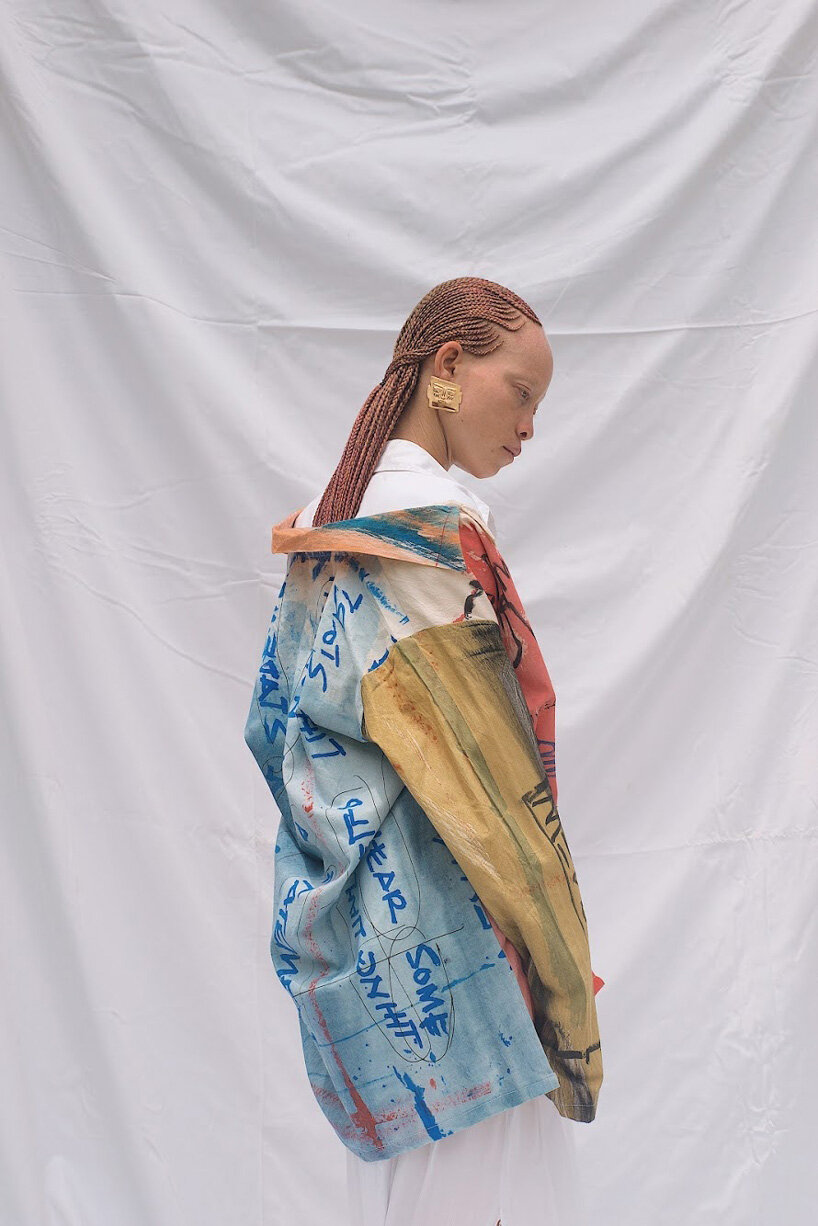 image by fibi afloe
SK (continued): many cultures around the world have a well-documented history of how sustainable wear has been beautifully presented, the word is not new. yes we have evolved and become more innovative, but I think it will always depend on our ability to make use of the resources we have. after using them, how do these resources affect our ecosystem in the near future?
it is indeed frustrating to see how big brands and many fashion designers are using sustainability as a marketing tool to sell, but through it all i'm hopeful.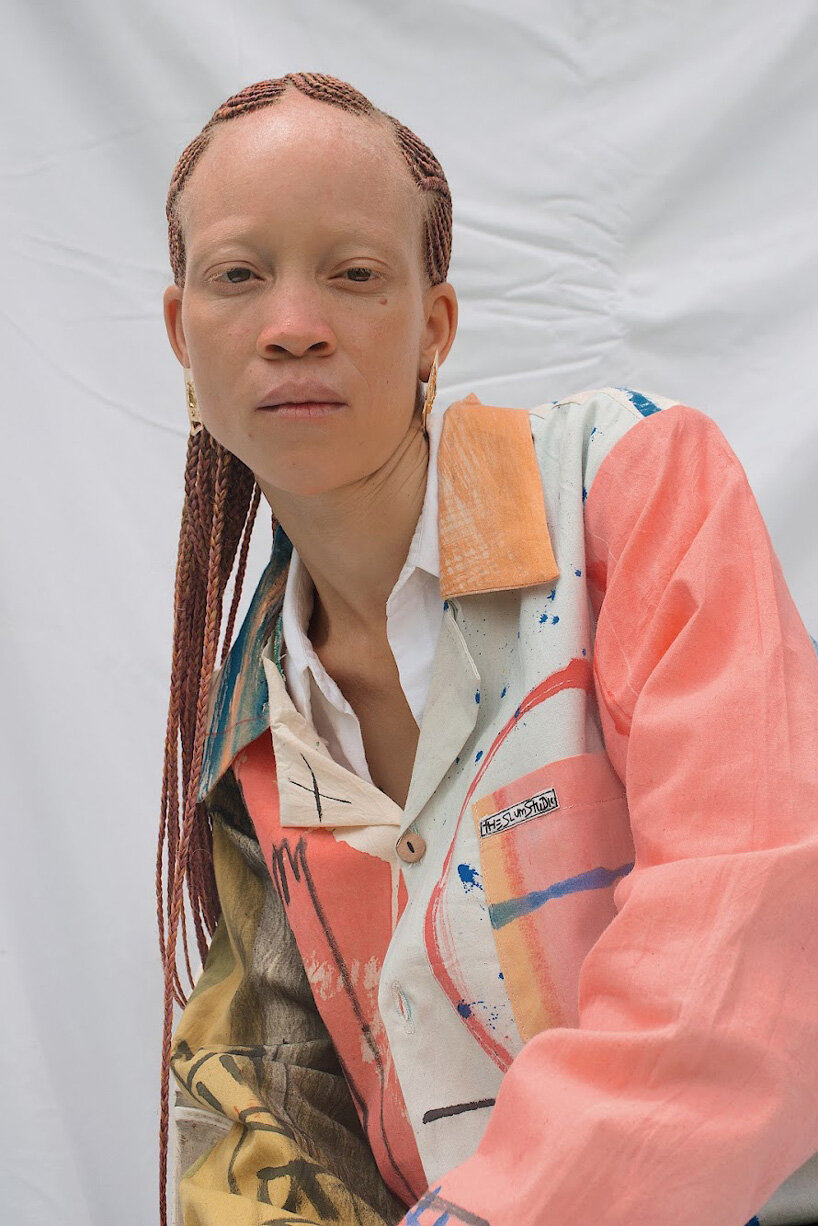 image by keren lasme
DB: tell us a little bit about the process involved to create the slum studio's clothing? where do the clothes come from and how do you repurpose them?
SK: the process starts from a bland thought, and then gradually develops into a lot of, I guess a lot of colorful thoughts. in accra, I visit many market spaces, one of them is kantamanto, well known for being one of the largest and busiest second-hand clothing markets in west africa. it is home to hundreds of bales that come into the country every week. here I start documenting (chatting with resellers, asking questions, taking photos, videos, etc) to create the story. it is this story that I redevelop into different color palettes and symbols that are all connected to the market. I start collecting used cotton fabrics, curtains and offcuts (all coming from USA, UK, korea, france, germany, etc), I bring them to the studio, wash and hand paint them into new fabrics, and then with the help of my collaborators I turn them into new clothes. this has been happening for two years now. very soon i'm going to migrate into tapestry and try my hands on sculptural pieces as well.